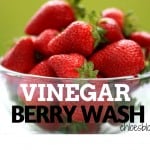 Print Recipe
Berry Wash Recipe
Fresh strawberries

1

part vinegar

10

parts water
In a large pan mix the water and vinegar. Gently add the berries and gently remove them to a colander to drain. Repeat this washing and draining.
After they have drained, remove the berries and place them on a cookie sheet lined with paper towels. I place this in front of a fan or under a ceiling fan until all the berries are very dry. Sometimes I have to replace the paper towels. Some folks use a salad spinner to remove the water. If you use the salad spinner, line it with paper towels. It certainly is faster than air drying on the cookie sheet.
To store I use the plastic containers that the berries are in at the grocery stores. Wash these containers and dry them. Put a layer of berries, a small piece of the paper towel and then another layer of berries until the container is full.
Store berries in the refrigerator, not in the crisper. My berries will keep a week; they don't keep a week if I just put them in the refrigerator without the vinegar wash.