This Hearty Beef Vegetable Soup-Stew is the best soup I have ever had. It is not cheap, about $30 to make or $3.75 a bowl – but it's a meal and worth every penny. I am not a meat eater but this could persuade me.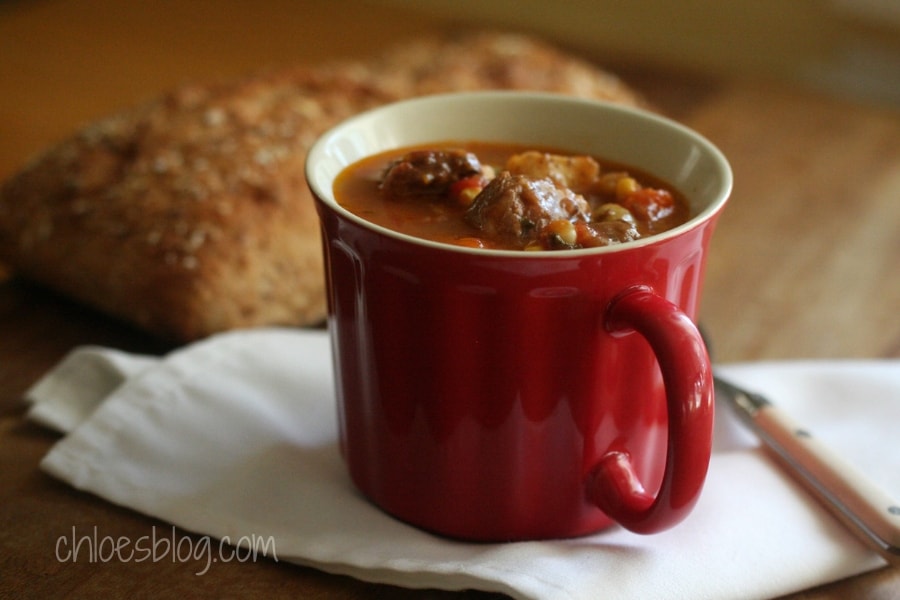 Ingredients
• 2-3 Tablespoons lard

• 2-3 pounds bone-in chuck roast

• 1 lb. oxtails

• 2 large cans whole tomatoes

28 oz. This is really good if you have home-canned tomatoes.

• 1 can beef broth

14.5 oz.

• 1 teaspoon dried thyme

• 2 bay leaves

• 2 Tablespoons dried parsley or a hand full of fresh parsley

• Salt and pepper to taste

• 1 large clove garlic

mashed

• 6 large carrots

peeled and cut into large chunks

• 4 medium potatoes

washed and cut into chunks with skins left on

• 3-4 ears fresh corn cut off the cob

• 1 large onion

diced

• 2 stalks celery

cut into small pieces

• Package of small

frozen Lima beans (12 or 16 oz.)
Instructions

Melt lard in large stew pot. Add the roast and seer until it starts to brown, about 4-5 minutes. Add the oxtails and seer also. Remove meat from pot to cool for a few minutes.


Add canned tomatoes, broth, thyme, bay leaves, parsley, salt, pepper and garlic to the pot. Cut tomatoes into chunks with scissors or knife.


Cook tomatoes, broth, thyme, bay leaves, parsley, salt, pepper and garlic (without the meat) on medium for at least 5 minutes or until the meat cools.


When the meat is cool, cut the roast meat into chunks. Add meat, bones and oxtails back to the pot and cook for 20 minutes on simmer.


Add the vegetables to the pot: carrots, potatoes corn, onion, celery and lima beans. Cook for 30 minutes or more or until all is tender.


Remove all bones. Cut the meat off the oxtails and discard bones. Add meat back to the pot.l


Serve with toasted rustic bread.

Big Mill Bed& Breakfast, Williamston, NC 27892
Latest posts by Chloe Tuttle
(see all)