All Good Southern Cooks Have a Sweet Pickle Relish Recipe

We don't buy the relish, we make it ourselves from old family recipes. Each family has its own recipe; some add peppers and onions. I like the simple one. Often we just chop up last year's sweet cucumber pickles.
Sweet Pickle Relish is a main ingredient in southern chicken salad, potato salad, ham salad, and deviled eggs. One of our chefs here in this small eastern North Carolina town makes his own sweet pickles to use in recipes – it is a main ingredient in his famous chicken salad.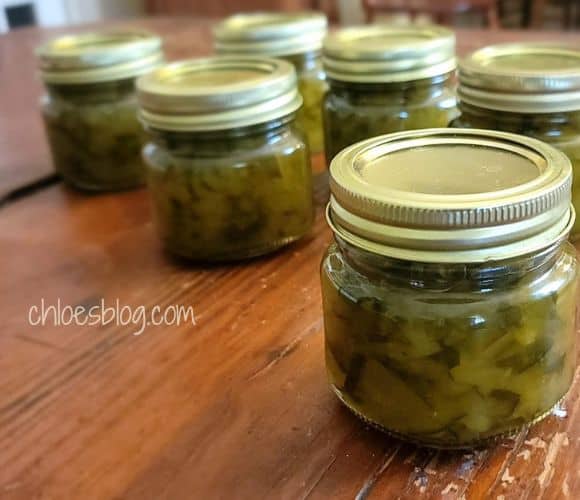 Ingredients
7

lbs

cucumbers

2

cups

pickling lime

1/2

gallon

distilled white vinegar

5% acidity strength

5

pounds

sugar

3

Tablespoons

pickling spice

double piece

cheesecloth

1

piece

cotton string
Instructions
Wash the whole cucumbers and remove any dirt. Cut off and discard the ends. Then slice the cukes into rounds 1/2" thick.

Mix the lime and several cups of water in a large ceramic, stainless steel, or enamel container. Stir until well-blended. I wear a mask - the lime has a way of getting in the air.

Add more water to the lime mixture and stir. Add the cut cucumbers. Add enough water to cover the cucumbers. Using a wooden, plastic, or stainless steel spoon, stir to mix the lime into the water and cover the cucumbers. I wear gloves, you really don't want the lime on your hands. Be careful -- the cucumbers will break easily. Soak 24 hours or overnight. Stir several times to blend the lime. Use your hands or the spoons to stir the lime mixture. You can also soak for 2 days if something comes up.

After soaking overnight, drain cucumbers and rinse in clear water. Let sit in the clear water and rinse every hour on the hour for a total of 4 times. In other words, you will drain and put fresh water in the bowl 4 times. Do a final drain.

Pour 1/2 gallon of the 5% white distilled vinegar into a large stainless steel or enamel cooking pot (I use a big soup pot).

Start heating the vinegar and stir in 5 pounds of sugar. Using a piece of double cheesecloth about 6" square, tie up 3 Tablespoons of pickling spice and put that in the sugar-vinegar mixture. Cook and stir until the sugar is melted.

Add the drained cucumbers and bring to a boil and then turn burner off. Let stand overnight.

The next day bring the pickles to a boil and boil for 1 hour.

Take the sliced cucumber pickles out of the pot and drain in a colander, reserving the pickle juice. Remove and discard the spice bag. Move the pickles to a large plastic bowl. Working in batches, chop pickle slices into relish-sized pieces. Return the relish to the pot with the hot vinegar mixture, keeping the mixture warm.

Put relish in the jars and fill with the pickle juice, filling jar to 1/2" from the top. See below for instructions.

To process in hot water bath, see below.
To Process and Can the Relish
You will need a canning pot, large stainless steel or enamel cooking pot, wide mouth funnel, canning tongs, chopper, a big stainless spoon and several large colanders. You will also need 8 or 9 half-pint jars and canning jar lids and rings.

While pickles are cooking, fill the canning pot at least half full of water. Turn stove on high to bring to a boil.

Sterilize at least 8 half-pint jars.

Place the new lids in a metal bowl. Pour boiling water into the bowl to sterilize the lids.

Using the wide-mouth funnel, ladle the relish into the sterilized jars. Add the pickle juice to each jar, filling to 1/2" of top of jar. I use a wooden spoon handle to pack better

Wipe top of jar and place sterilized lid on jar. Add jar ring and tighten. Place seven filled jars in canning pot.

Process in boiling water bath for five minutes.

After five minutes, remove jars from the canning pot using the tongs. Place the jars on a heat proof surface and allow to cool. Do not move the jars until they are cool. People seem to want to pick them up.....just say NO.

Repeat for remaining jars of relish.
Nutrition
Calories:
769
kcal
|
Carbohydrates:
82
g
|
Protein:
20
g
|
Fat:
7
g
|
Saturated Fat:
1
g
|
Polyunsaturated Fat:
1
g
|
Monounsaturated Fat:
0.2
g
|
Sodium:
115
mg
|
Potassium:
4544
mg
|
Fiber:
26
g
|
Sugar:
45
g
|
Vitamin A:
2383
IU
|
Vitamin C:
109
mg
|
Calcium:
677
mg
|
Iron:
10
mg
Latest posts by Chloe Tuttle
(see all)