Blueberries are a gift – they speak "Summer"
If you can pick your own blueberries that is the best. I have blueberries growing right outside my kitchen window and I try to use them any way I can. Local farmers' markets also have good berries.
I love cooking with fresh blueberries and this is the very BEST jam recipe I have ever made – and it is EASY. If you don't like the cinnamon and lime, then I have another Blueberry Jam recipe for you. And remember – Don't Double the Recipe!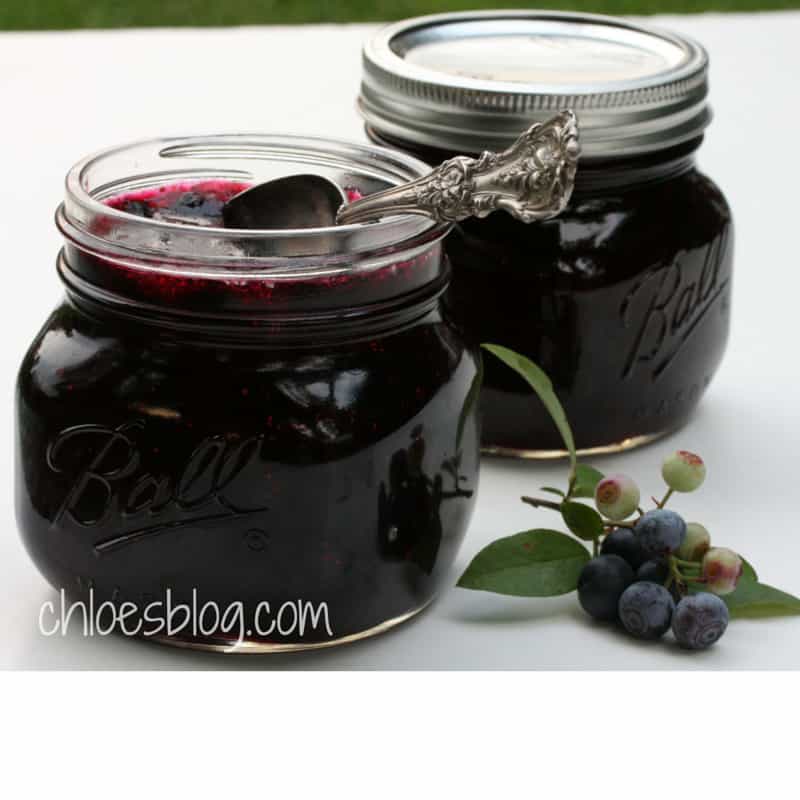 Ingredients
4

pints

blueberries

about 8 cups you will need 4 cups of mashed fruit

6

cups

sugar

1/2

teaspoon

ground cinnamon

1/2

teaspoon

butter

to reduce foaming (optional)

1

Tablespoon

lime zest

1 1/2

ounces

liquid pectin like Certo

1/2 pouch be sure to check the expiration date
Instructions
You will also need 7 half-pint canning jars with lids and rings, wide-mouth funnel, canner and jar tongs.

Blueberries seem to not need as much pectin as other fruits to make jam. I use half the amount of pectin for blueberry jam as I do for strawberry jam. Maybe it is the natural pectin or maybe they don't make as much juice.

Sterilize the jars and lids. Fill the canner about half full of water and turn heat on so that it will be boiling when you finish cooking the jam.

Wash blueberries, drain and put into a medium-sized mixing bowl. Chop and then mash blueberries until juice runs. Measure out 4 cups of mashed berries.

Measure 6 cups of sugar and put into a large stainless steel saucepan. Add berries, cinnamon and butter. Stir to mix.

Grate the lime zest and add to the berry/sugar mixture.

Bring berries and sugar to a full rolling boil that cannot be stirred down. Pay careful attention to the pot. It will boil over in a heartbeat and you don't know what a mess is until you boil over blueberry jam

Stir in the ½ package of Certo. Return the mixture to another FULL, rolling boil that cannot be stirred down. Boil this for exactly 1 minute. I count "one-one-thousand, two-one-thousand, etc."

Remove jam from heat and pour into sterilized jars using a wide mouth funnel.

Fill each jar to ½ inch of the top. Wipe the tops of each jar and put on one of the sterilized lids. Secure with the lid ring. Using special canning jar tongs, put each jar into boiling water in the canner, making sure all jars are covered by the water.

Boil for 5 minutes, this is called processing. Remove jars using the tongs and cool on drying rack out of drafts
Notes
Yield: 7 half-pints plus some for tasting.
Nutrition
Calories:
103
kcal
|
Carbohydrates:
26
g
|
Protein:
1
g
|
Fat:
1
g
|
Saturated Fat:
1
g
|
Cholesterol:
1
mg
|
Sodium:
1
mg
|
Potassium:
26
mg
|
Fiber:
1
g
|
Sugar:
25
g
|
Vitamin A:
20
IU
|
Vitamin C:
3.3
mg
|
Calcium:
2
mg
|
Iron:
0.1
mg

Latest posts by Chloe Tuttle
(see all)