Ah, figs … a wonderful way to welcome Indian Summer to the South.
There was a time when everyone's grandmother had a fig tree at the home place. I am lucky to live and work at Big Mill B&B – it is my home place. We have the old orchard, but the fig trees are small. So when Michael called and offered figs, I went forthwith. Even North Carolina mystery writer Margaret Maron stops writing to make fig preserves.
Before you commit, make sure you have time to deal with the figs. When figs are luscious and ripe, the clock is ticking fast – you might be able to keep them for a day.
A great way to savor the flavor of figs all year long is to make Fig Preserves; they are mouth-watering on homemade biscuits. I have worked on this recipe and I think it is perfect, humbly speaking. My recipe is worthy of the old South, a fact that now promotes me to "Miss Chloe."
A friend, Nancy Rascoe, who owns the bed and breakfast 1812 on the Perquimans in Hertford, NC, teaches manners — "Miss Nancy Teaches Manners." (You have to watch this video!) Don't you just love the South? I will tell you, "Miss Chloe" takes some getting used to; my mother was Miss Chloe. It really is a term of respect and endearment.
A word of caution: Once committed to making preserves, don't stray from the project. I'm serious. Don't answer the phone, the doorbell or anything else. This is science. You will be so glad in December when you show up at the party with Fig Preserves on Roasted Brie.
And save a few figs for the best bread ever – Chloe's Fig Bread with a nip of Grand Marnier baked right in it.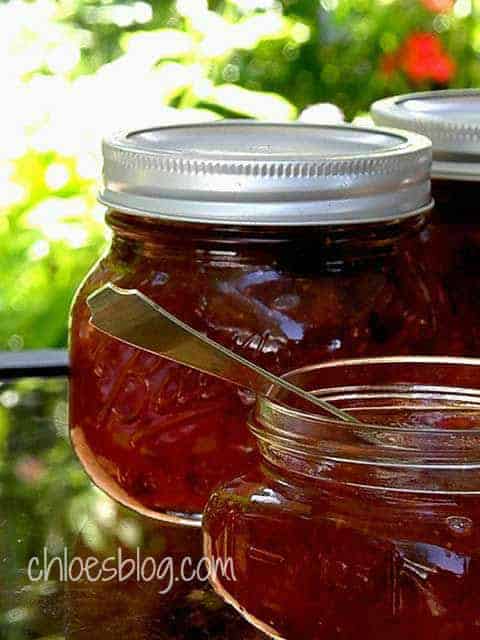 Ingredients
2

pounds

ripe figs

4 cups prepared figs

7

cups

sugar

Scant 1/2 cup fresh squeezed lemon juice

3 to 4 lemons

Zest from two of the above lemons

1/2

teaspoon

butter

1

pouch

liquid pectin

like Certo (3 ounces) Do NOT use Ball brand, they have changed the recipe
Instructions
Wash and drain the figs, handling carefully. Remove the stems and cut the figs in half. You should have 4 cups of cut or mashed figs.

Measure 7 cups sugar into a large mixing bowl. Wash the lemons and grate the peel from two of the lemons. Squeeze the juice from the lemons. You will need a scant 1/2 cup of juice. Check the expiration date on the pectin. Don't use if it is out of date.

Place figs, sugar, lemon juice and zest and butter into a large cooking pot (at least an 8 quart pot). Using a potato masher, gently mash some of the figs, leaving chunks. Stir and bring this mixture to a full, rolling boil; a boil that cannot be stirred down. Add the liquid pectin and return to a full, rolling boil that cannot be stirred down. Boil for exactly one minute, stirring the entire time.

Remove from heat and ladle into sterilized jars. Process according to your canning instructions.
Notes
Yield: 7 half-pints, plus some for tasting.
Nutrition
Calories:
110
kcal
|
Carbohydrates:
28
g
|
Protein:
1
g
|
Fat:
1
g
|
Saturated Fat:
1
g
|
Cholesterol:
1
mg
|
Sodium:
1
mg
|
Potassium:
40
mg
|
Fiber:
1
g
|
Sugar:
28
g
|
Vitamin A:
25
IU
|
Vitamin C:
1.2
mg
|
Calcium:
6
mg
|
Iron:
0.1
mg
Don't fret, you all can still call me Chloe or Chloe Ann!

Big Mill Bed & Breakfast 252-792-8787
Latest posts by Chloe Tuttle
(see all)