Canning Jam for Dummies – Step-by-Step How To Make Strawberry Jam
How to make strawberry jam – start to finish: Of course, fresh berries are better for the jam, but you can use frozen berries.
Spring is berry pickin' time, so get ready to make Strawberry Jam.
My father taught me how to raise a garden and how to cultivate an orchard; my mother taught me how to can this home-grown produce and to make jam. Making jam with your children is a good family project they will remember. My mom, Chloe, and I had such fun. She said I was "Big Chloe" because she was 5'1″ and weighed 95 pounds. I could rest my chin on her head — and she was wearing short heels.
Before you begin – turn off the phone, lock the door. Making jam is very scientific and that last ONE minute of a full, rolling boil is very important. You cannot double the recipe, I have no clue why; just don't do it.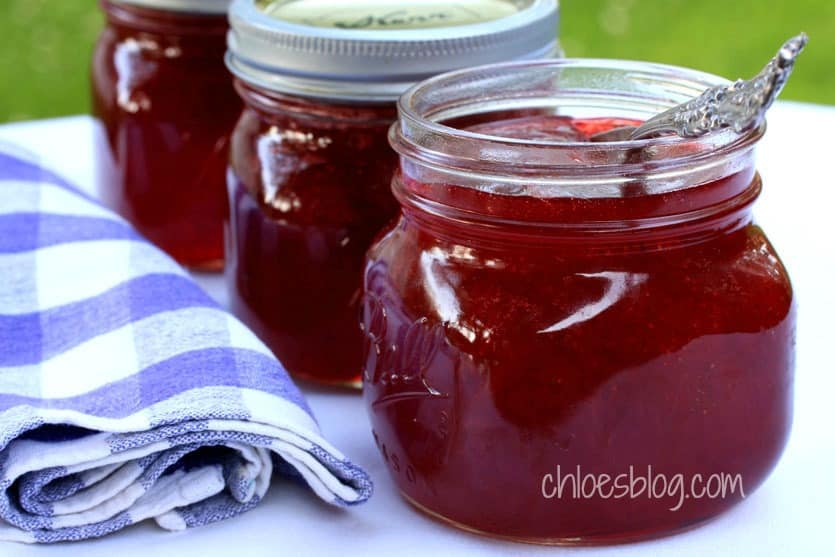 Ingredients
3

pounds

fresh strawberries

4 cups crushed

7

cups

sugar

1

teaspoon

butter

Squirt

lemon juice

about 1 Tablespoon

3

ounces

liquid pectin like Certo*
Instructions
Making the Jam:
Sterilize the jars. This can be done in the dishwasher ahead of time or you can pour boiling water into each jar.

Fill the canner at least half-full of water and bring to a boil. It will need to be boiling to process and seal the jars of jam. Water needs to be about 2 inches over the tops of all jars.

Wash and hull the berries. I use a white vinegar and water wash for fruits and vegetables. Rinse berries in a solution of 1 part white vinegar to 10 parts water. Rinse and drain berries.

Put jar lids and tools into a metal bowl or pan and pour boiling water over them to sterilize. Remove the tools.

Remove hulls from berries and cut berries in half. Chop strawberries into large pieces and then mash berries with potato masher to release the juice.

Measure 4 cups mashed berries into the stock pot. Add the 7 cups sugar, teaspoon butter and lemon juice.

Set burner on high heat. Stir berry mixture until the sugar melts and comes to a full rolling boil, one that cannot be stirred down.

Add the pectin and keep stirring. Bring to another full, rolling boil, stirring most of the time. After the jam reaches a full, rollling boil, boil for 1 minute, still stirring. I count one-one thousand, two-one thousand, until I reach a minute. Do not shortcut this minute. A few seconds more is better than few seconds less time. Remove pan from heat and skim off foam if necessary.

Place sterilized jars on rack or cutting board so that the heat will not penetrate onto your counter. Using the wide-mouth ladle, ladle the jam into the jars, filling to about 1/2 inch from top. If you have half a jar left over, that is great for eating right away.

Using a clean, damp dish cloth wipe the edges of the jars, making sure no jam is on the top rim of the jar.

Place sterilized jar lid on each jar. Screw on jar rings and put jars of jam into the canner, using the jar lifter tool. Continue until all jars are filled and in the canner, making sure the water is at least two inches above the tallest jar. Boil or process for five minutes.

Remove jars from canner and place in a draft-free area to cool. Don't move the jars until they are cool. Folks coming in to the kitchen will want play with the jars – it will happen. Discourage this if you can.

The jar lids will start making a popping sound as they seal. After 24 hours, if lids click when you press on them, then they did not seal. No worries, just put that jar of jam in the refrigerator and eat it first.
Notes
Cost: About $3 half pint – this does not include the cost of your canning equipment, your time, travel or electricity. So this is a labor of love. Great reason to re-use the jars and jar rings.
Yield 8 half pint jars
*

be sure to check the expiration date Do not use Ball brand, they have changed the formula and it does NOT work.
Nutrition
Calories:
92
kcal
|
Carbohydrates:
24
g
|
Protein:
1
g
|
Fat:
1
g
|
Saturated Fat:
1
g
|
Cholesterol:
1
mg
|
Sodium:
1
mg
|
Potassium:
33
mg
|
Fiber:
1
g
|
Sugar:
23
g
|
Vitamin A:
5
IU
|
Vitamin C:
12.5
mg
|
Calcium:
4
mg
|
Iron:
0.1
mg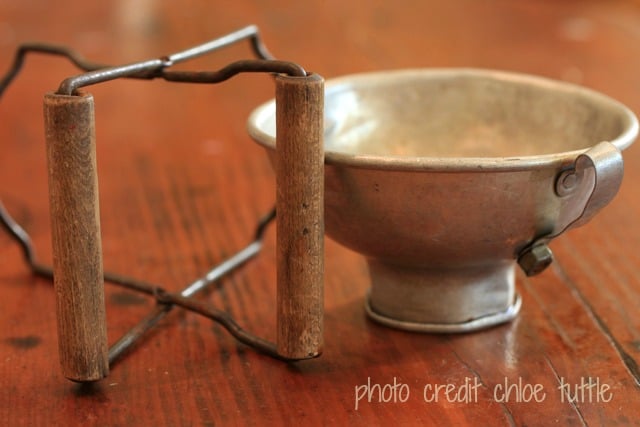 Old Canning tools – jar gripper and wide mouth funnel

Innkeeper's Recipe from Big Mill Bed & Breakfast, Williamston, NC 252-792-8787
Latest posts by Chloe Tuttle
(see all)