Calling all watermelon lovers!! This Watermelon Salad is a beauty. I adapted this recipe from one in the June, 2017 issue of "Our State Magazine," the same magazine that did a wonderful story about Big Mill in their August issue.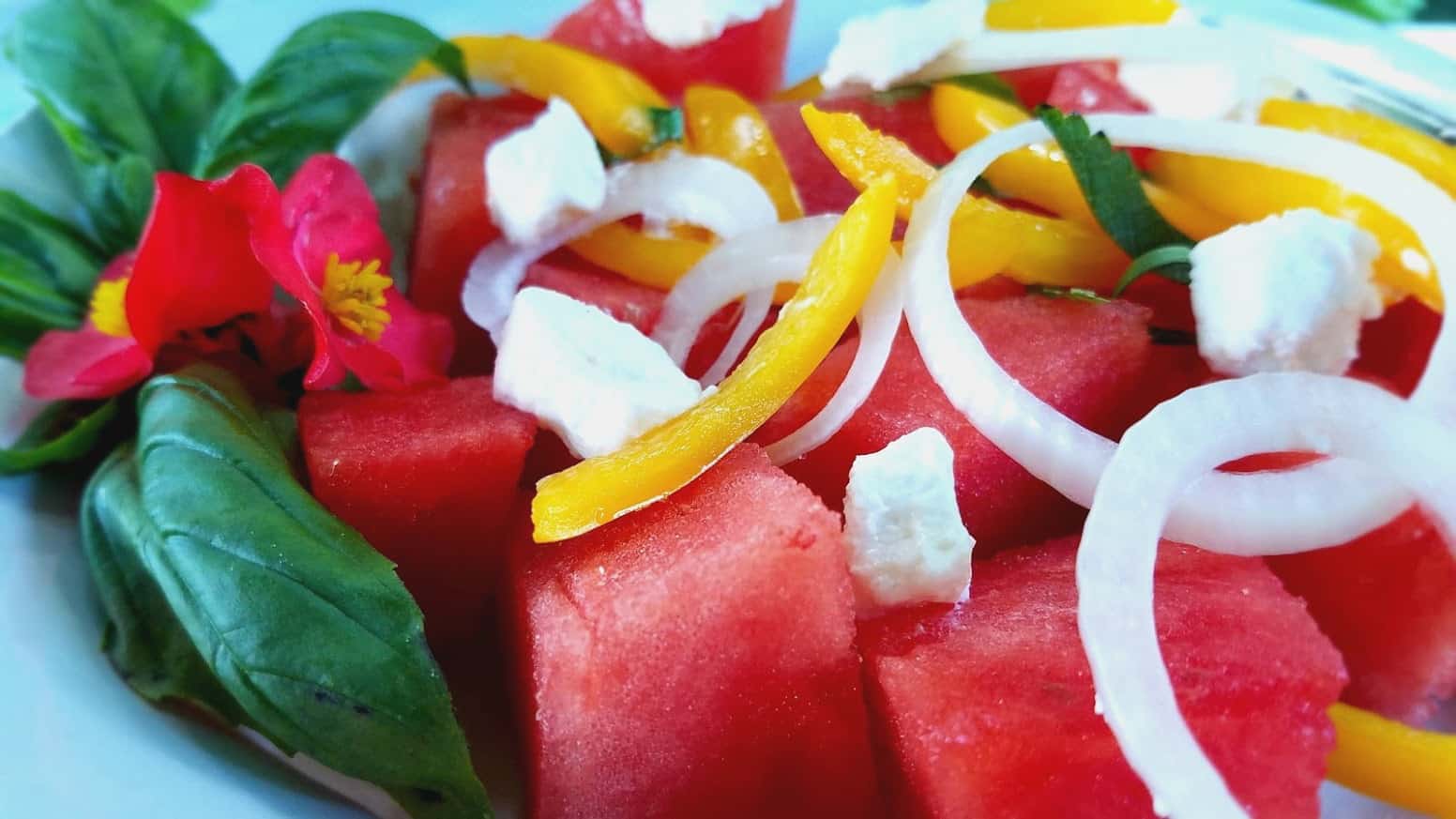 Ingredients
6

cups

seedless watermelon

cut into cubes

1

sweet yellow bell pepper cut into thin strips

1

sweet onion like Vidalia or 1 red onion

cut into very thin rings

4

ounces

of Feta Cheese

or goat cheese, crumbled

Juice of 1 lime

about 3 Tablespoons

2

Tablespoons

honey

¼

teaspoon

salt

Freshly ground black pepper to taste
Instructions
This is a "make now and eat now" salad. If you dress it, you eat it. You can cut the parts of the salad early, but do not amalgamate it until you are ready to eat it.

Cut the watermelon into large chunks and lay it out on a plate lined with paper towels to remove some of the excess water. I do that when I am making watermelon skewers for my B&B guests. It keeps the watermelon from weeping into the dish.

Cut watermelon again into cubes about 1½" large. Put cubes of watermelon, pepper strips and onion rings into each salad bowl. Add crumbled cheese. For each salad, cut 1 basil leaf and 1 mint leaf into very thin strips and place on top of each salad.

Wisk together the lime juice, honey, salt and pepper.

Garnish with an edible flower like a begonia or nasturtium. Dress salad just before serving.

Instead of individual salads you can make one large salad if you prefer. Also do not dress this until just before serving.

This salad recipe is adapted from a Watermelon Salad in "Our State" magazine.
Notes
This salad needs to be made just before serving.
In eastern North Carolina, we do many things with watermelon. We also are very picky about where we buy our watermelons. Folks around here swear by Rocky Hock watermelons and cantaloupes. Rocky Hock is a small, rural area of the Chowan River – folks say the sandy soil is the reason these melons are so good.
Years ago, Miss Zulim had a small country store in Currituck County, NC and she made the BEST Watermelon Rind Pickles in the world. Miss Zulim is long gone, but she left me with her recipe. You can find it here on Chloe's Blog.
At Big Mill B&B, we also make Watermelon Punch — so very refreshing on a hot August day.
We love our watermelons and these days we can create these luscious summer recipes all year long.

Big Mill Bed & Breakfast, Williamston, NC 252-782-8787
Latest posts by Chloe Tuttle
(see all)