Sunnyside is an eastern North Carolina tradition and folks from all over the country come to taste these special, just-shucked oysters……………..OPENS OCTOBER, 12, 2023 at 5:30!!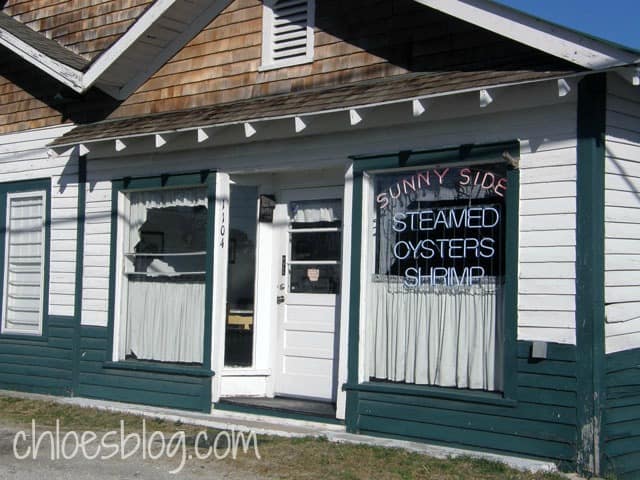 ---
They do it the same way they have been doing it since 1935, when Charles Roberson, Sr. first opened his restaurant and called it Sunnyside.
As soon as you enter the front door, you can smell that famous Sunnyside Sauce, and it is served hot.
One of the owners, told me that only five people know the recipe. He grinned as he told me that it has ketchup, vinegar and a special ingredient that I could find at the grocery store. He also told me that they paid almost as much for the recipe as they did for the oyster bar. He didn't share the recipe!
I remember going to the Oyster Bar when my mother's cousin, C.T. Roberson, owned it. Not much has changed. Each year the bead-board walls were painted a bright, gloss white, trimmed with bright green.
The walls are still bright, gloss white and the trim is still bright green. Actually, it has changed a wee bit, and I think that's good. Now you can get a great glass of wine to go with those fabulous oysters. You'll see a couple of pinball machines for the younger clients, but I do miss the Wurlitzer.
When C.T. owned the Oyster Bar, it was open only during the months that have an "R" in them: September through April. I figure that came from all those years before we had refrigeration; oysters spoiled easily. Now you can get your oyster fix all year. During the months without the "R", Sunnyside will be open one weekend a month.
The oysters come from all over the country, depending on the weather. Heavy rains in Idaho can affect the oysters in Louisiana. Most people like their oysters to be slightly salty, so the folks from Sunnyside keep a close eye on the weather. Some of the best oysters come from Apalachicola, but they also get oysters from Massachusetts, Georgia, Louisiana, Texas and our own Core Sound.
You can get oysters raw or steamed, steamed shrimp, Alaska King Crab legs and scallops. A new concession is broccoli with cheese sauce. But don't worry; you won't see a trendy blooming onion or nachos in this oyster bar.
The oysters are steamed out back in galvanized buckets with gashes cut into them to allow steam to penetrate.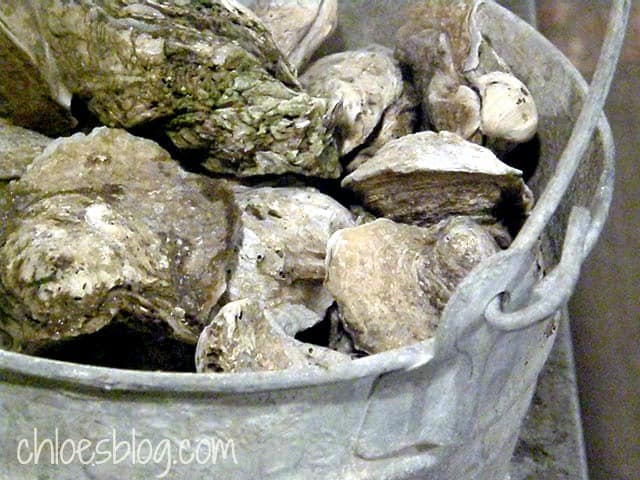 Your shucker will disappear through the back door and reappear with your peck (or more) of oysters. He then dumps them in the trough behind the bar where everyone sits. They can seat 32 oyster-eaters at a time. The shucker then deftly opens each oyster for you, just as they have done for years.
Our shucker Nate has been shucking for 27 years right here at Sunnyside. Griff has been shucking for 38 years. He also has a day job with the city of Williamston. Four years ago, some folks did the math and figured that Griff had shucked 1.37 million oysters at Sunnyside.
If you are serious about your oysters, you might order a Red Rooster; this is an oyster on a saltine cracker, with a dollop of horseradish, a hot pepper soaked in vinegar and a lethal dose of hot sauce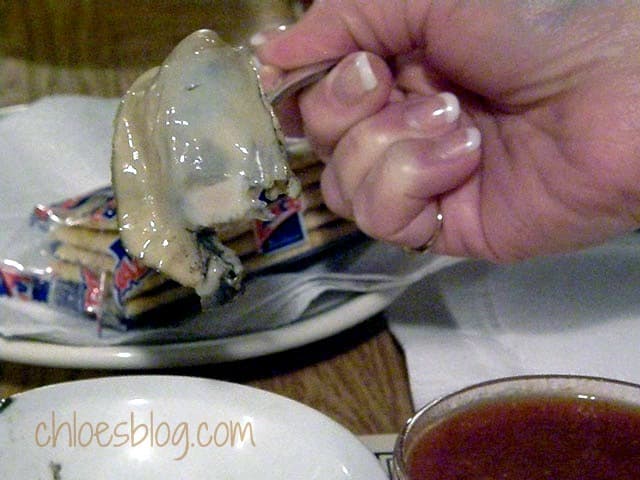 Not for the faint of heart is the Oyster Shooter: in a shot glass you have a slug of beer, an oyster, 2 Tablespoons of Sunnyside sauce and a dash of hot sauce- then down the hatch just like any other shooter. Oysters aren't really beautiful, but don't tell all those folks at Sunnyside.
Sunnyside Oyster Bar is on the National Historic Register. It has been highlighted in the Raleigh News and Observer, Southern Living and Down East magazine.
Sunnyside Oyster Bar, 1102 Washington Street, Williamston, NC. Tel. 252-792-3416
They are open every day at 5:30 from September or October through April. Go early if you don't want to wait for a spot at the bar. But the waiting is fun too.
Green Tip: The North Carolina Division of Marine Fisheries has launched an oyster shell recycling program and I am thrilled that Sunnyside is participating. When these shells are reintroduced into the coastal waters , they help establish new oyster reefs, thus producing more oysters and making a habitat for other beneficial organisms in the sounds and brackish waters of North Carolina. Oysters also help keep our waters clean: one oyster can filter 50 gallons of water a day. I guess it is our turn to build some shell mounds or middens.
Call for exact opening and closing dates.
Distances From:
Raleigh, NC – 102 miles
Greenville, NC – 27 miles
Manteo, NC – 89 miles
Big Mill Bed & Breakfast in Williamston, NC – 3 miles (252)792-8787

View Sunnyside Oyster Bar in a larger map

Big Mill Bed & Breakfast 252-792-8787
Latest posts by Chloe Tuttle
(see all)