The Hen and The Hog Restaurant in Halifax, NC, is a wonderful surprise.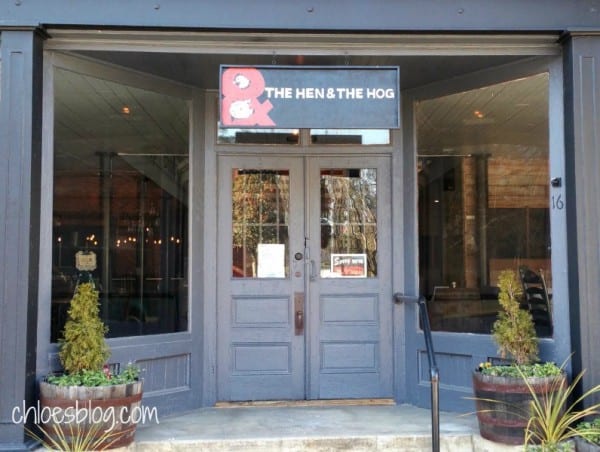 I love to explore local gems and this one is perfect. The restaurant is located in an old hardware store and the old floors remain – no trendy marble tiles here. But don't be fooled – this is an upscale place; it just retains its local character.
It is the vision of owner Patterson Wilson, who grew up in Halifax, to bring some vitality back to her hometown.
I love The Hen and The Hog's menu. It's not your regular barbecue and fried chicken, although I feel sure they could do that if they wanted. In fact, my friend ordered pulled pork with sweet potato slaw – great twist, don't you think? I had the Rosemary Roasted Beets with creamed wild rice, goat chevre, sunflower kernels and pistachios.
All the dishes are farm to table – they even serve a Bison stew. And any fish will be "Day Boat" fish. In other words, they don't buy fish that has been iced down on a boat for a week – they only use fish from boats that go out and come in the same day.
Homemade ice cream is a specialty and they rotate the flavors. In summer you will find Sweet Cream Corn Ice Cream. In fall you might get Sweet Potato Ice Cream. I had the Beet Ice Cream and friends Donna and Kathy had the Sweet Pea Ice Cream. I am going back for more ice cream! Chelsi Hogue is the chef responsible for this great menu and she is a graduate of the Nash County Culinary School.
In 1976, when we were all so patriotic, the building was decorated to celebrate our Bicentennial as you can see in the photos below. Patterson chose to keep all of this and I am glad she did.
If you are willing to try something new and you want an adventure – then head out to The Hen and The Hog – it is a great day trip from Big Mill Bed & Breakfast. While you are there be sure to visit all the wonderful antique shops in the area including Bass House Antiques in Halifax and Riverside Mill in Weldon. The restaurant is not far from I-95, so plan to get off the big highway – it is worth it!
Halifax is a small, sleepy southern town that can tell many stories. It is steeped in history from the Revolution and the Halifax Resolves until now. As the historical maker states "The Halifax Resolves is the name later given to a resolution adopted by the Fourth Provincial Congress of the Province of North Carolina on April 12, 1776. The resolution was a forerunner of the United States Declaration of Independence."
We couldn't have had a better guide. Bentley Mohorn, historian and friend, showed us around. I met Bentley when he was a guest at my bed and breakfast. Bentley and his wife Betty Ann gave me my first evening Primroses, the wonderful night-blooming flowers that fascinate my guests every June.
Halifax is a small, rural town that used to be thriving when farming (tobacco) was king. When Patterson returned home for a visit, so many stores were boarded up. Her mission is to give new life to Halifax and what a great goal. Small town USA is worth saving.
Patterson has bought four buildings in Halifax and has plans for them all. One will be for the arts and art study. I hope she can use my loom that I had when I was an art student; it still sits idle in my barn.
I am always looking for good day trips for my guests and this is the perfect place.
DISTANCES from BIG MILL B&B: 252-792-8787

88 miles northeast of Raleigh, NC
99 miles southwest of Norfolk, VA
61 miles north of Greenville, NC
55 miles northwest of Big Mill B&B

More Information about The Hen and The Hog restaurant in Halifax, NC:
16 South King Street
Halifax, NC
Telephone: 252-253-1017
They're closed on Sundays and Mondays. Double check their current hours, posted on their Facebook page.

Latest posts by Chloe Tuttle
(see all)