This Pumpkin Bread is quick, EASY and, oh, so tasty.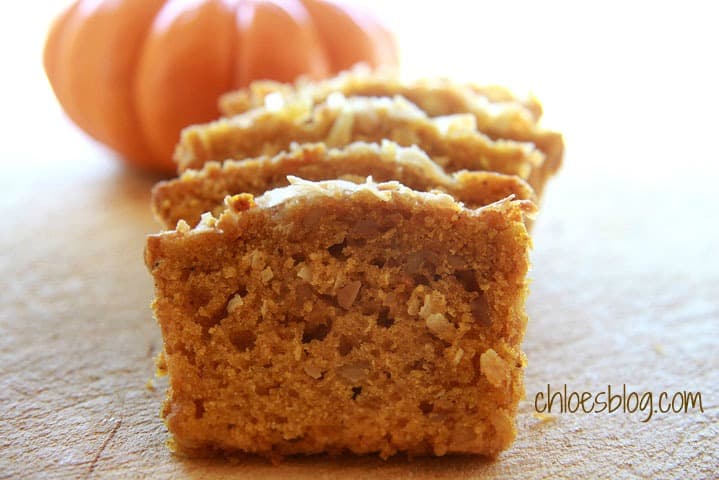 I really like this recipe for pumpkin bread, given to me by our inn-sitter Jeannie Simmons. I made just a few changes.
When we all ate from the land and did not import exotic foods, we ate what was fresh. So in the fall of the year and for Thanksgiving and Christmas we had lots of pumpkin dishes. My folks let me grow pumpkins in the corn patch.
I hope you'll give this easy holiday recipe a try. I bet it becomes a new holiday baking tradition!
Pumpkin Coconut Bread from Big Mill B&B
2 large eggs
1/2 cup canola or vegetable oil
1 1/2 cups sugar
1 cup cooked, unsweetened canned pumpkin (good brand)
1 1/2 cups self-rising flour (see note for all-purpose flour) *
1/2 teaspoon ground cloves
1/2 teaspoon ground cinnamon
1/2 teaspoon salt
3/4 cup shredded, sweetened coconut (reserve 1/4 cup for topping)
1/2 cup chopped pecans or walnuts
Preheat oven to 350 degrees. Grease four mini bread pans (5 3/4″ x 3″) using cooking spray with flour like Baker's Secret.
Whisk eggs in large mixing bowl. Add oil, sugar and pumpkin. In another mixing bowl stir together the flour, cloves, cinnamon, salt and 1/2 cup of the coconut. Add the dry mixture to the pumpkin mixture and stir. Stir in the chopped pecans.
Pour batter into greased loaf pans, filling about 3/4 full. Sprinkle with the reserved coconut. Bake for 25-35 minutes until lightly browned or until a straw inserted into the center comes out clean. Cool on wire racks for five minutes. Remove bread from pans and continue to cool on wire rack.
* Note: If using all-purpose flour, add 1/2 teaspoon baking soda and 1/4 teaspoon baking powder.
Bread will keep fresh for several days if stored in plastic wrap.
I use canned pumpkin for my pumpkin bread. Pumpkins in our stores are bred to be round, pretty and orange. The old pale, apricot-colored pumpkins still grown in the North Carolina mountains are much better for cooking than the picture-perfect orange pumpkins.
There are many heirloom pumpkins that really taste great – and they come in many colors, so don't think all pumpkins are created equal.


Big Mill Bed & Breakfast 252-792-8787
I am a farm girl who sailed the world, returned home to the family farm and opened
Big Mill Bed and Breakfast
. Join us for Business EXTENDED STAY or a quiet getaway 252-792-8787.
Latest posts by Chloe Tuttle (see all)