Oh, so sad for Windsor and Eastern North Carolina – Bunn's is closed as of July 28, 2023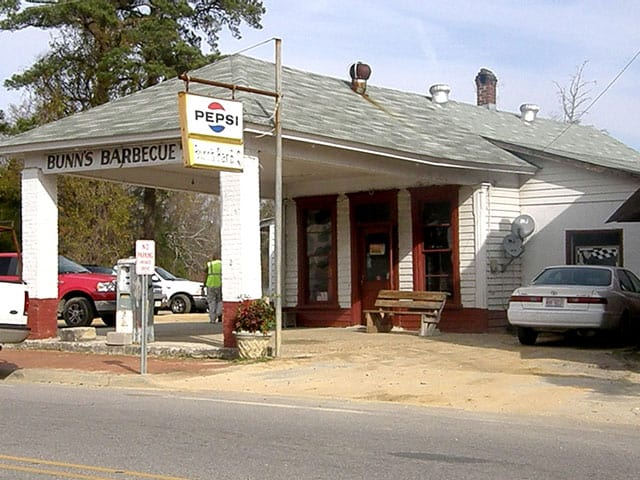 Driving up, you might wonder if this really is a restaurant. There's a Texaco pump out front – that's because before 1938, Bunn's was a service station. Inside, old signs hang on the walls, but the minute you enter, that wonderful aroma of vinegar, pork and red pepper greets you. You are in the right place.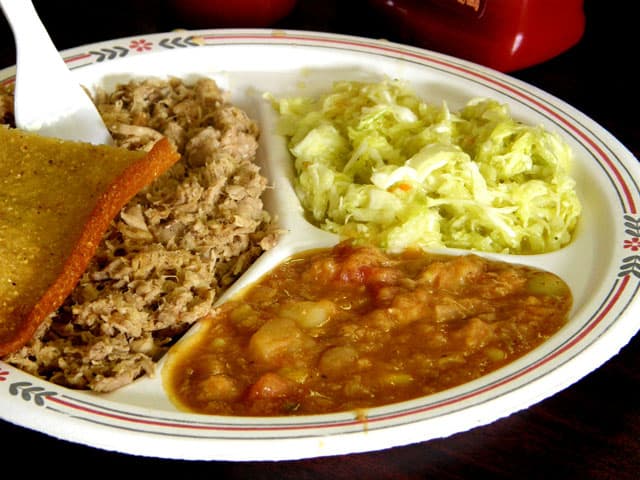 A few years back, several of my friends sashayed up to the food bar and asked for a menu; they were told, "Don't have one." When asked what they served the waitress — very matter-of-fact — responded, "Barbecue on a bun, barbecue on a plate."
A menu is on the wall and they certainly have added some good eastern North Carolina foods. You can get hot dogs, Brunswick stew and barbecue any day, and sweet tea, of course. On Tuesdays, they serve barbecue chicken; on Thursday, the house special is chicken and pastry.
My favorite food at Bunn's – the Cornbread Sandwich. That's a barbecue and slaw sandwich served between two pieces of corn bread.
Open since 1938, this Windsor, North Carolina landmark is a place you just don't want to miss. The Russell family has owned Bunn's since 1969. High water has flooded Bunn's seven times since 1999, twice with six feet of water.
Jan and Michael Stern, who wrote Road Food for Gourmet magazine and are now on NPR's Splendid Table, with a Road Food column added it to their list of great Mom and Pop restaurants in the USA. I agree.
For great pork barbecue in eastern North Carolina,
Bunn's Barbecue in Windsor has to be on your short list.
I am on a mission to photograph every Mom and Pop "Road Food" restaurant in eastern North Carolina. Do you have any suggestions?
Bunn's Barbecue 127 N. King St. , Windsor, NC 27983, tel. 252-794-2274. (Bunn's is just 17 miles from Big Mill Bed & Breakfast).
Distances From:
Raleigh, NC 115
Norfolk, VA
Greenville, NC 45 miles
Big Mill Bed & Breakfast 14 miles (In Williamston, NC) 252-792-8787
(all photos by Chloe Tuttle of Big Mill Bed & Breakfast)

View Bunn's Barbecue in a larger map
Latest posts by Chloe Tuttle
(see all)