Sweet cucumber pickles are as southern as iced tea
Not just any pickles either – they must be homemade and preferably homegrown. It is alright if someone gives you the cucumbers, or you pick them up fresh from your local Farmers Market.
We all have a family recipe that has been passed down and it usually involves days of work for our pickles to have just the right crunch. My mother, Chloe, had several pickle recipes, but this one is my favorite.
FYI – I also have a pickle fork in several different sterling patterns. It's a southern thing.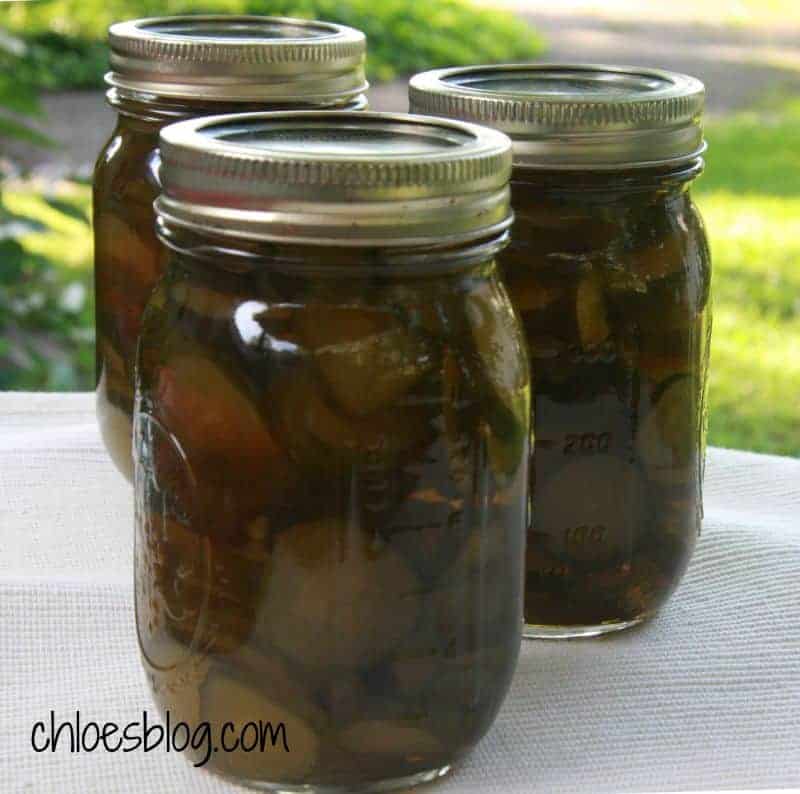 Servings: 40 servings

Calories: 237kcal
Ingredients
7 lbs cucumbers
2 cups pickling lime
Numerous buckets of water
1/2 gallon 5% white distilled vinegar most vinegar is 5%
5 pounds sugar - see note
3 Tablespoons pickling spice
Instructions
Use small or long pickling cucumbers. Burpless work too. Just don't use large cucumbers with many seeds. Wash the cucumbers. Slice crosswise into 1/8"-1/4" slices.

Mix 2 cups of lime with several cups of water in a large ceramic, enamel or stainless steel vessel. Stir to blend.

Add the cut cucumbers and enough water to cover them. Gently stir the mixture. Be very careful -- they will break so easily.

Soak for 24 hours.

I remember my mother making these pickles. Sometimes she had a plate on top to hold down the cucumbers. As you pass by, gently stir under the cukes, just to loosen the settled lime. Note: you can soak them for 48 hours and they are still wonderful.

After soaking for 24 hours, rinse the cucumbers in clear water. Then change the water every hour on the hour, 4 times.

Tie pickling spices in a double thickness of cheesecloth. Put 1/2 gallon distilled vinegar, 5 pounds sugar and the pickling spices into a large stainless steel or enamel cooking pot. Stir to melt the sugar. Add the cucumbers and bring to a boil. Let stand overnight.

Next day bring the cucumbers and vinegar to a boil and simmer for 1 hour. Pack pickles and vinegar mixture into sterilized jars according to canning instructions.
Notes
Yield 9-10 pints These days sugar often comes in a bag that is 4 pounds instead of 5. If you are measuring, 5 pounds is about 11 1/4 cups of sugar.
Nutrition
Calories: 237kcal | Carbohydrates: 58g | Protein: 1g | Fat: 1g | Saturated Fat: 1g | Sodium: 3mg | Potassium: 110mg | Fiber: 1g | Sugar: 58g | Vitamin A: 55IU | Vitamin C: 2.6mg | Calcium: 15mg | Iron: 0.2mg

Big Mill Bed & Breakfast 252-792-8787
Latest posts by Chloe Tuttle
(see all)