This orange extract makes the perfect gift for anyone who bakes or enjoys cocktails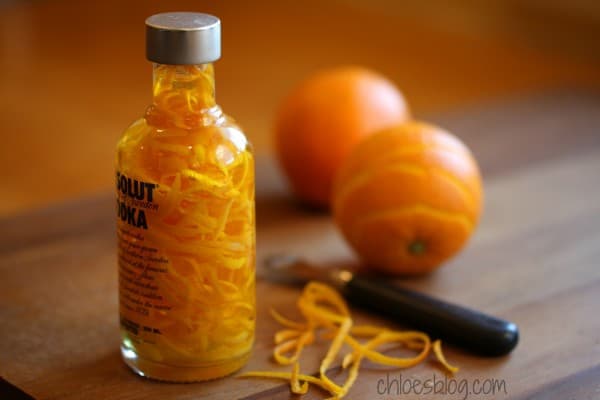 I love making gifts for friends, especially at the holiday season. This recipe for homemade orange extract is good any time of year. Just having these extracts on display brightens my kitchen.

And you can make it again next year because friends and family will need more. I like having these exotic extracts sitting around because they are so pretty, they're so easy to make and they "show well."
Orange Extract Recipe
Ingredients:

• 4 organic oranges (if possible) otherwise, 4 large oranges (bright colors make the extract prettier) *
• 1 cup vodka
Wash the oranges and pat dry.
Using a citrus twist peeler, make strips of the orange without getting any of the white pith. I use a bartender's tool called a citrus twist peeler; it is not the same as a zester.
Place the orange strips into a pretty glass jar and cover with vodka. Shake and let this sit for 4-6 weeks in a dark cabinet. If you put it in the window, the pretty orange color of the strips will begin to fade. You can smell and tell if the extract is ready.
After about 3-4 months, I strain out the orange "twists." If they remain in the mixture too long, it can become bitter.
* You can also make lemon extract using lemon "twists." Follow the recipe for Orange Extract, substituting lemons for the oranges.
Be sure to let me know on the Big Mill B&B Facebook page if you tried it and liked it.

I am a farm girl who sailed the world, returned home to the family farm and opened
Big Mill Bed and Breakfast
. Join us for Business EXTENDED STAY or a quiet getaway 252-792-8787.
Latest posts by Chloe Tuttle (see all)