Hurricanes bring out the spirit of hunkering down and staying put. So when Hurricane Hanna blew through eastern North Carolina, those of us here at Big Mill Bed and Breakfast hunkered down. After the wind stopped several of us wandered out to check out the damage.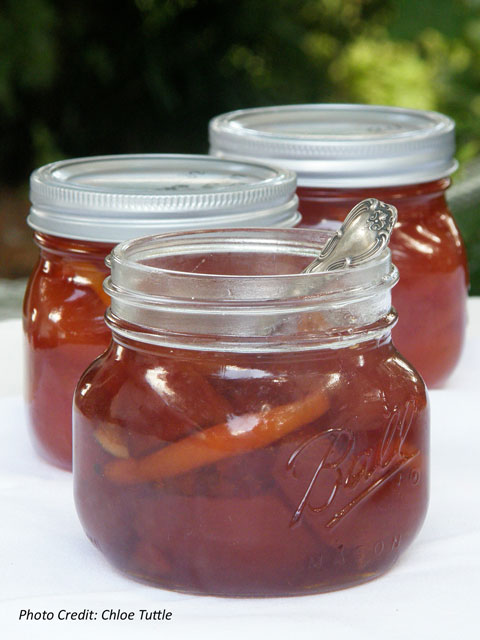 In the orchard we found bushels of pears lying on the ground.
I really don't like to waste anything, so I admitted that I knew how to make pear preserves. That was when Nurse Nancy, Paul and I decided to make Hurricane Hannah Pear Preserves…and pear butter…and pear brandy… and finally dehydrated pears. We trashed the kitchen but that was fun; and luckily we only lost electricity once.
We did have a rule for these pear projects — we had to use what we already had on hand-no trotting to the store for anything. And also trotting to the store during a hurricane is a bad idea.
Award-Winning Recipe — Our Big Mill Pear Preserves won a Blue Ribbon at the Martin County Farm Heritage Fair. We belong to the North Carolina Agritourism Association as a Farm Homestead Bed and Breakfast lodging. Our jams and preserves are for sale here at the Inn.
Pear Brandy Preserves These Homemade Pear Preserves are a House Specialty at Big Mill Inn. .
8-10 half-pint canning jars with lids and rings
10-12 pounds hard, canning pears like Kieffer (this is about 16 cups of cut up pears) *
8 cups sugar (yes, these preserves are sweet)
3 lemons
1/2 cup brandy (We used Apricot Brandy because we had it). I bought this brandy for my dear friend, Mr. Ed. So these pears are in memory of that one-of-a-kind, cantankerous man. He also liked to can and preserve fruits and vegetables. Ed did most of the gorgeous tile work here at Big Mill B&B.)
Wash and sterilize the jars. This can be easily done in a dish washer.
Wash, peel and core the pears. Cut into 2-ince pieces. As you peel the pears, place the cut pieces in a large pan filled with water and some Fruit Fresh, lemon or lime juice. This will prevent the fruit from discoloring.
Moses came in for the hurricane; she was our barometer. She also took a shine to Paul, one of our guests, hovering by his ankles all day. When she asked to go out, we knew the worst was over.
Wash the lemons. Slice into thin pieces, removing seeds. Discard/compost the end pieces.
In a large cooking pot, layer the pears, lemon slices and sugar. Continue until all the pears, lemon and sugar are used. Allow to sit four hours. This will draw the juice out of the pears. There will be plenty of liquid without having to add water.
Stir gently and bring to a slow boil. Lower heat and continue to boil gently for an hour. Add the brandy and cook 1-2 hours more or until the pears are tender and golden and translucent. If you overcook them they will be a dark color. They still taste good, they just aren't as pretty.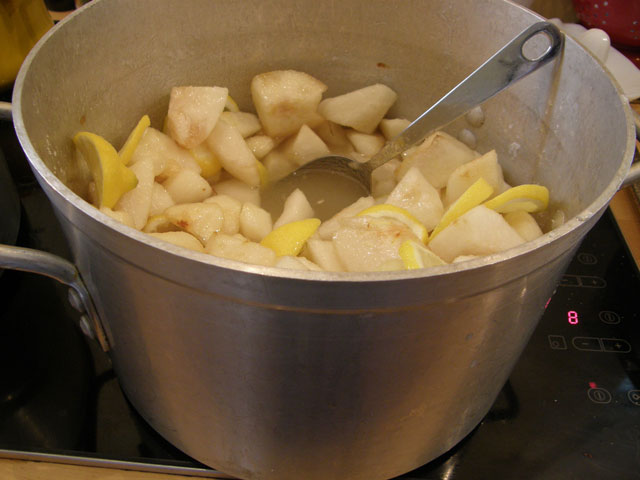 Using a slotted spoon, ladle the pears and a lemon slice into the jars. Fill with pear syrup. You might have some syrup left over but this is good on ice cream or pancakes.
Process according to the canning instructions. Yield: 8-10 half pints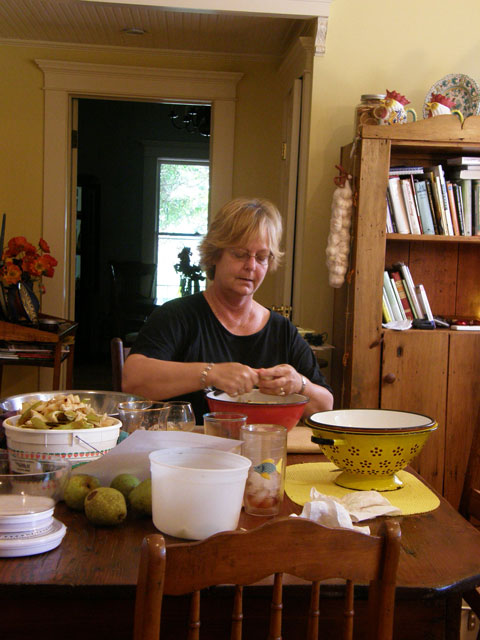 Nurse Nancy cut the pears into chunks. I met Nancy when she was a guest here at Big Mill B&B years ago…she is now a Big Mill regular and a dear friend.
* Kieffer Pears are heirloom pears that are often seen in old, country orchards and thriving on abandoned homesteads in the south. They are grainy and hard and they ripen in September in Coastal North Carolina.
My father planted my Kieffer pear tree for me in 1971 and it survives with very little attention. Every year it breaks its limbs with an over abundance of fruit. This old variety of pear has stood the test of time.

Big Mil Bed & Breakfast 252-792-8787
I am a farm girl who sailed the world, returned home to the family farm and opened
Big Mill Bed and Breakfast
. Join us for Business EXTENDED STAY or a quiet getaway 252-792-8787.
Latest posts by Chloe Tuttle (see all)