Americans have a love affair with our marshmallow PEEPS
… and we eat more than our share – we will eat 600 million PEEPS this Easter. (I call them all PEEPS, even if they are bunnies.)
PEEPS marshmallow candy – those bright-colored chicks and bunnies that we see at Easter have a long history. In 1953, it took 27 hours to make one Peep. Now the factory in Bethlehem, PA makes a billion a year. The first PEEPS were squeezed out of a pasty tube and the eyes were painted on by hand. Each PEEP is a character – as they settle the nose and eyes rearrange and they get a personality.
Big Mill B&B Easter guests enjoy PEEPS served on hand-painted Italian Majolica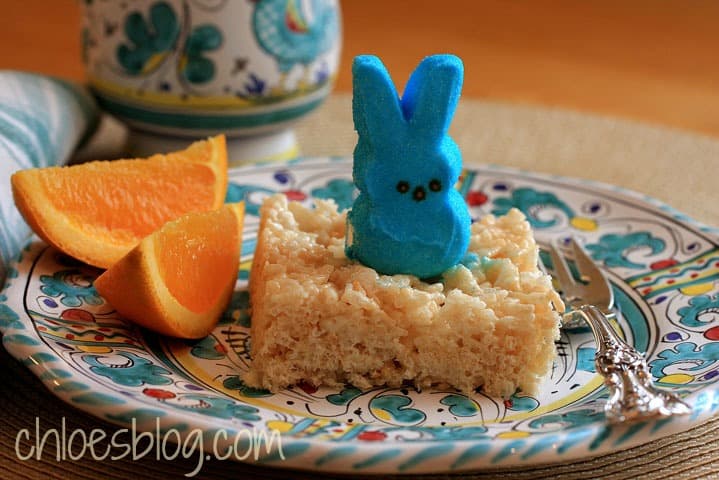 The Washington Post has an annual PEEPS Diorama contest. One year the winner was Occupy PEEP D.C. I am telling you, PEEPS' mania is real, it's fun and I am joining.
National Geographic did PEEPS in Places. There were PEEPS in Las Vegas, on the beach, in a subway, at Big Mill B&B in the Mule Room. Ever wonder what wine to serve with PEEPS?
PEEPS in the Mule Room at Big Mill B&B will be served with Riesling. Someone has already done the wine pairing for PEEPS and the suggestions are Riesling or Chardonnay.
You can create your own Peeps character – pick a color, outfit, give him a name and POOF he will jump on Facebook if you want him too. I am telling you, folks really get in to their Peeps.
Can you believe folks cook with PEEPS? There are many PEEPS recipes out there, much to my surprise. So I tried one.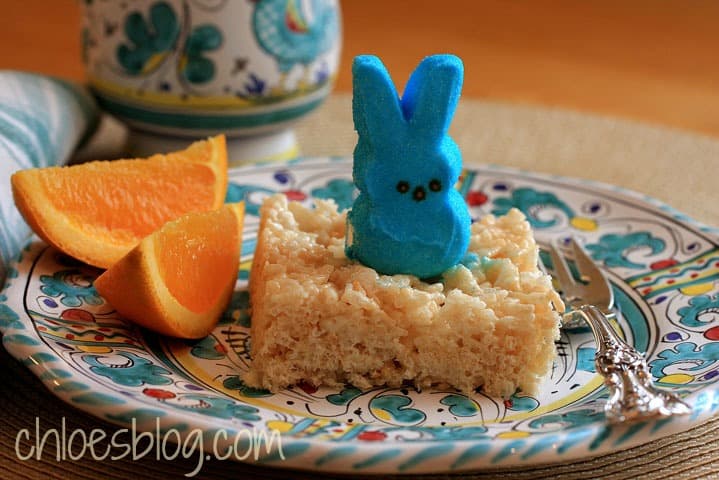 Ingredients
4

Tablespoons

butter

10 

oz.

pkg. Marshmallows

about 40 or 4 cups miniature marshmallows

6

cups

Rice Krispies cereal

12

PEEPS

1

Tablespoon

marshmallow cream for glue

Optional
Instructions
Freeze PEEPS overnight.

Grease a 9" x 13" baking pan or dish and set aside. In a large saucepan, melt 3 Tablespoons butter over low heat. In a small pan melt remaining 1 tablespoon butter (this is your glue) or you can use Marshmallow cream.

Add marshmallows to the large pan and stir until melted. Add Rice Krispies and stir until coated. Remove from heat. Using a greased spatula, press the marshmallow - Rice Krispie mixture into the greased pan. It is really sticky!

Press the frozen PEEPS on top, spacing each PEEP about 1 1/2" apart. Allow to cool and cut into 12 squares with PEEPS in the middle. Best served the same day.
Nutrition
Calories:
191
kcal
|
Carbohydrates:
38
g
|
Protein:
1
g
|
Fat:
4
g
|
Saturated Fat:
2
g
|
Cholesterol:
10
mg
|
Sodium:
129
mg
|
Potassium:
17
mg
|
Sugar:
22
g
|
Vitamin A:
1050
IU
|
Vitamin C:
8.8
mg
|
Calcium:
1
mg
|
Iron:
4.3
mg
I believe the old adage As American as Apple Pie, should be As American as Marshmallow PEEPS. A word to the wise: Don't mess with PEEPS fans.


…from Innkeeper at Big Mill Bed and Breakfast 252-792-8787
Latest posts by Chloe Tuttle
(see all)