Need a Wild Game Recipe? Not everywhere can you pull in to your local marina and buy raccoon meat.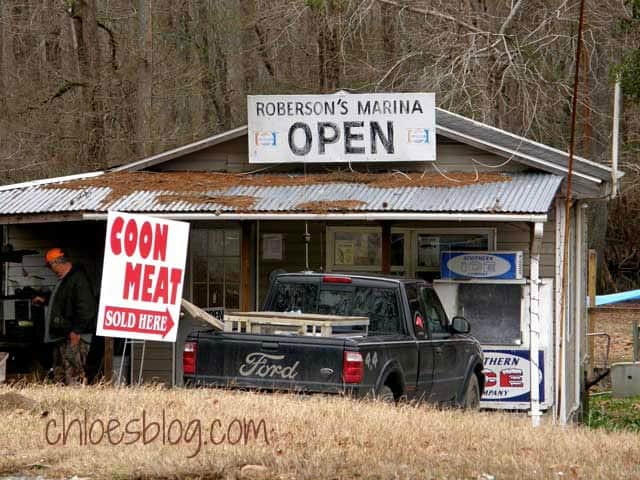 Except in Martin County in eastern North Carolina. Yep, raccoon meat. So to keep a tradition we wanted our guests to have our special Raccoon Meat Quiche. Just down the road from Big Mill Bed & Breakfast at Gardner's Creek is Roberson's Marina where you can rent a canoe and, in season, get raccoon meat. I haven't seen the sign for 'possum yet.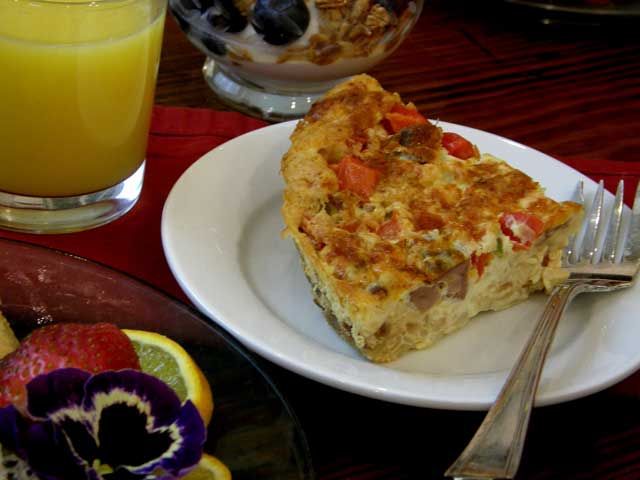 Ingredients
1 1/2

cups

shredded southwest style hash brown potatoes

found in the refrigerated section at the grocery store

4

Tablespoons

butter

melted and divided

3

scallions/green onion with tops

1/2

medium sized red bell pepper

about 1/2 cup diced

4-5

large eggs

1 1/2

cups

half-and-half

dash of cayenne pepper

Salt and fresh ground black pepper

1

Tablespoon

flour

3/4

cup

grated Swiss or Jarlsberg cheese

1/2

cup

cooked coon meat

diced (see below)

paprika
Instructions
Preheat oven to 350 degrees. Grease a round 8-inch or 9-inch quiche dish. Stir together the shredded potatoes and 1 Tablespoon of the melted butter. Sprinkle with salt. Press into the greased dish. Bake for 35-45 minutes or until edges start to brown. Remove from oven and reduce oven temperature to 350 degrees.

Chop the scallions, bottoms and tops. Dice the red pepper. Saute both in 2 tablespoons of butter, until just barely tender, keeping them separated while cooking.

Whisk together the eggs, half-and-half, cayenne pepper, 2 Tablespoons of the butter, 1 Tablespoon flour, salt and black pepper. Sprinkle the cheese over the baked shredded potatoes. Add the coon meat, scallions and red pepper. Fill the dish full with the custard mixture and sprinkle with paprika. Bake for 45 minutes to 1 hour or until a knife inserted into the center comes out clean.

Serve with hot sauce.
Nutrition
Calories:
319
kcal
|
Carbohydrates:
14
g
|
Protein:
13
g
|
Fat:
23
g
|
Saturated Fat:
13
g
|
Cholesterol:
171
mg
|
Sodium:
310
mg
|
Potassium:
350
mg
|
Fiber:
1
g
|
Vitamin A:
1090
IU
|
Vitamin C:
18.6
mg
|
Calcium:
199
mg
|
Iron:
1.4
mg
SCROLL DOWN

SCROLL DOWN
SCROLL DOWN
SCROLL DOWN
APRIL FOOL's…..got'cha!
Now did you really think the same folks who will eat Raccoon will actually eat homemade yogurt with granola???? I don't have a camouflage baseball cap, that would have made a better photo.

But really, the hunters here in Eastern North Carolina do eat many different game animals, including raccoon. The North Carolina Cooperative Extension Service has a long list of Wild Game recipes, including bear, opossum, grouse, deer, moose, beaver, wild turkey and, yep, raccoon.
I talked to Frank Scearce, a raccoon hunter and game chef from way back; and this is how Frank cooks a whole raccoon. Cleaning a raccoon is serious business. They have about 14 musk glads that must be removed, or, I hear, it will run you out of your house. And don't forget to remove the feet.
And I have to 'fess up … Frank cleaned and cooked the racoon for the above quiche. I had EVERY intention of cooking this raccoon myself, but Frank rolled his eyes, Two of my guests, Sarah and Jackson, from Cambridge, Massachusetts, actually requested this 'Coon Quiche. They liked it!
A confession: I hardly eat any meat, so this is the one and only time I plan to make this quiche.
How to Cook a Raccoon
1 coon, skinned with feet and head removed
1 onion
1 potato, peeled
Salt and Black Pepper
1-2 Tablespoons dried sage
1-2 pints barbecue sauce
Fill a large pot with water. Put the coon, onion, potato, a good sprinkling of salt, some black pepper and sage into the pot. Bring to a boil and cook until fork tender.
Remove Raccoon from pot and place whole coon in a roasting pan. Discard onion and potato. Baste coon with barbecue sauce. Cook in a 250 degree oven for one hour, basting with barbecue sauce several times. The meat should flake off the bones easily. Note: you might want to save certain bones, I hear they are magic.
Wild game entrees and politics have been in the news lately. At the death of North Carolina Governor Bob Scott the News and Observer states that Bob Scott might have been rural North Carolina's "…last political hurrah — the last governor proficient at milking a cow, the last associated with the country crowd called the Branchhead Boys, the last to hold Executive Mansion possum dinners."
Speaking of President William Howard Taft the Atlanta Journal Constitution writes "Nothing says "hail to the chief" like a steaming plate of possum". In 1910 at a large banquet in Atanta, a waiter presented to President Taft the 'possum entree that "sat grinning in a bed of gravy and sweet potatoes." The New York Times wrote "Taft eats Possum." Billy Possum even became the mascot for Taft's presidency. If you plan to eat wild game, it is best if you don't name them…that just won't work. I still remember when Brother John's calf Blackie became steaks in the freezer. I was a wee little girl, but I cried.
In the south we all ate whatever we raised, trapped or hunted. Growing up on the farm here at Big Mill it just seemed normal to try it all. We ate rabbit, squirrel, quail, black birds, dove, duck, goose, frogs. We once ate a guinea hen that had been run over; it was decided we just couldn't do that again. Guess what, now I hardly eat any meat.
My good friend Ted Gardner who grew up near Gardner's Creek told me they ate most any critter but, "Mama drew the line at 'possum." I think I agree with Ted "Pearl.'
In her 1928 classic southern cookbook, Southern Cooking, Atlanta Journal food editor Henrietta Dull includes a recipe for cooking 'possum. I have this book; it was a gift from Sara Sutherland Tuttle (Mama Tut) who was a friend of Mrs. Dull.
If you decide that you really do want to eat like the locals, the North Carolina Extension Service at NC State University has many wild game recipes, including raccoon. They have Fricassed Raccoon and Dove Tetrazinni. Eating raccoon and possum really makes as much sense as eating a crab.
I'd love to hear your comments … leave them below. And don't fret; I probably won't serve you raccoon quiche at Big Mill Bed and Breakfast!
P.S. 'sorry to those of you who received this April Fool post early…'twas a real operator malfunction.

Big Mill Bed & Breakfast 252-792-8787
Latest posts by Chloe Tuttle
(see all)