Want to make a special gift for the cook in your life?
And for not much money? Homemade Vanilla extract is the perfect gift – everyone cooks.
But not all vanilla beans are equal. If I can even find vanilla beans in eastern North Carolina, they are usually all dried up. But with some diligence good beans can be found. (See below) Vanilla beans come from a climbing orchid and each has its own special quality – some redolent of cherries, bourbon, cinnamon, even prunes.
The different beans have myriad flavors like Madagascar, Bourbon, Tonga (I almost took a boat delivery job to Tonga in my youth), Papua New Guinea, Mexico (I did go there in my youth), Tahiti, Indonesia, and Tahitensis & Planifolia Blend (the most typical vanilla.)
The more I read about vanilla beans, the more I am intrigued by them. Each bean is hand-picked and hand-pollinated. Now we know why they cost so much.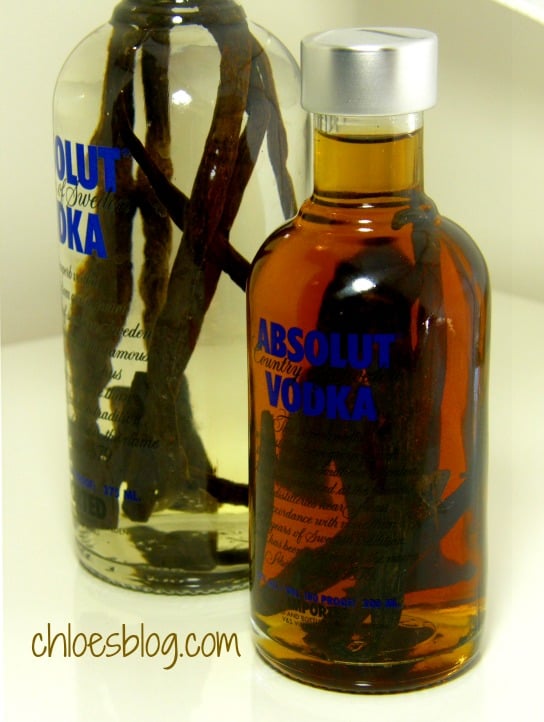 Ingredients
3-4

vanilla beans

1

cup

vodka *

some recipes use bourbon, light rum or brandy
Instructions
Using a very sharp knife, slit into each bean except for an inch at the end. If you cut too much the seeds will come out and cloud the vanilla. This isn't a problem, just doesn't look as pretty. You can strain through cheesecloth or a coffee filter if it bothers you.

Put beans into a glass jar with a tight-fitting lid. Cover with the vodka. Shake.

Store in a cool, dark place for at least a month - longer is better. Shake the jar every once in awhile. This wonderful elixir will last for years. As you use it up, just add more vodka, and give the bottle a shake or two.
Nutrition
Calories:
590
kcal
|
Carbohydrates:
4
g
|
Fat:
2
g
|
Sodium:
2
mg
* The cute little Absolut Vodka bottle in my photos has 200 ml of vodka, just short of a cup. Bend the beans to fit in the bottle. The next size of Absolut Vodka is 375 ml (almost 2 cups) and the beans will fit in the bottle easily.
I used three beans for the smaller bottle and six beans for this larger bottle, just remember to use 3 beans per cup of vodka. It isn't necessary to use the high quality of vodka like Absolut, but I really like the bottle!
Just a thought – Commercial vanilla extract often has a sweetener added to take away the bitter aftertaste. You can add simple syrup (sugar water) if you want.
Bon appetit!


Recipe from Innkeeper at Big Mill Bed & Breakfast 252-792-8787
PS — In case you're wondering where to buy vanilla beans …
Penzey's sells good vanilla beans and during the holidays you can sometimes find beans at discount places like Trader Joe's, B.J.'s Wholesale Club and Costco. In fact, yesterday I found them at a Costco in Atlanta – 10 beans for $11.99.
Latest posts by Chloe Tuttle
(see all)