These wonderful fried peach pies used to be served in every southern kitchen.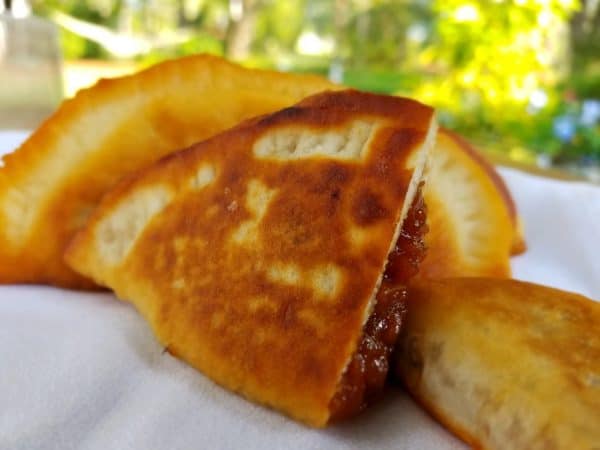 I remember eating fried peach jacks whenever I went to Dinner on the Ground at a small country church in eastern North Carolina. Dinner on the Ground all over the south celebrated the end of revival – they called it Homecoming. Like peach jacks, these celebrations are a fading tradition.

Peach Jacks Hand Pie – a Southern Tradition
Ingredients
1 6-ounce package of dried peaches*
1 1/2 - 2 cups water (Add water if it cooks out before peaches are soft)
1 cup sugar
2 cups all purpose flour
1 teaspoon salt
1/2 cup shortening
1/2 cup milk
Extra flour for dusting cutting board and rolling pin.
1/2 - 1 cup lard for frying
(Or you can use canned biscuits. Friend Nancy uses canned biscuits and her peach jacks are fabulous.)
Instructions
(*To make the filling*) Do this the day before and store in the refrigerator.

1. Simmer peaches and water in a small saucepan for 45 minutes to an hour until peaches are soft. Be careful, they tend to stick. Add water if needed. Add the sugar and cook 15 minutes more, stirring often. Remove from heat and refrigerate overnight. You will have 2 1/2 cups peaches

2. To make the dough

3. Stir together the flour and salt. Using two forks, cut in the shortening. Add milk and stir. Separate into 8 to 10 portions. Using the extra flour and a rolling pin, roll each dough piece into a 6" round. Roll dough as thin as you can without tearing dough.

4. If you are using canned biscuits, roll each biscuit on a floured surface or waxed paper. Roll as thin as possible; each round should be about 6 inches across.

5. To Cook the Jacks:

6. Put 2 Tablespoons cooked peaches in the center of the rolled dough. Fold the edges over to make a half circle. Crimp edges with a fork. Trim off excess dough.

7. Melt lard in a medium-size frying pan. Grease should be quite hot before you fry jacks. Fry jacks until they are golden in color. Turn and brown the other side. Remove from heat and drain on paper towels. Continue until all jacks are cooked.

8. The sweet, tangy taste of Peach Jacks is a treat. They are good cold but, oh, so good when they are hot. Yum!

Yield: 6-8 jacks
https://chloesblog.bigmill.com/peach-jacks-a-southern-tradition/
---
A great southern treat, these jacks are made from cooked dried peaches in a crust that is fried in lard. You can fry these in canola oil if you choose, but I just wanted to recreate the goodies of my youth. Some folks call these Hand Pies.
So I gathered up my stuff and visited friend Nancy and we fried up peach jacks.
A Southern Plate cookbook author even cooked these up on the Today Show. Use dried fruit . . . in the south, we use dried peaches, apples or cherries. Fresh fruit just doesn't have the zing.

Big Mill Bed & Breakfast 252-792-8787
I am a farm girl who sailed the world, returned home to the family farm and opened
Big Mill Bed and Breakfast
. Join us for Business EXTENDED STAY or a quiet getaway 252-792-8787.
Latest posts by Chloe Tuttle (see all)