I just love this Pozole Recipe. Pozole is a Mexican Soup that is usually made with pork; this recipe is made with chicken. It can be made in a crock pot if you'd prefer.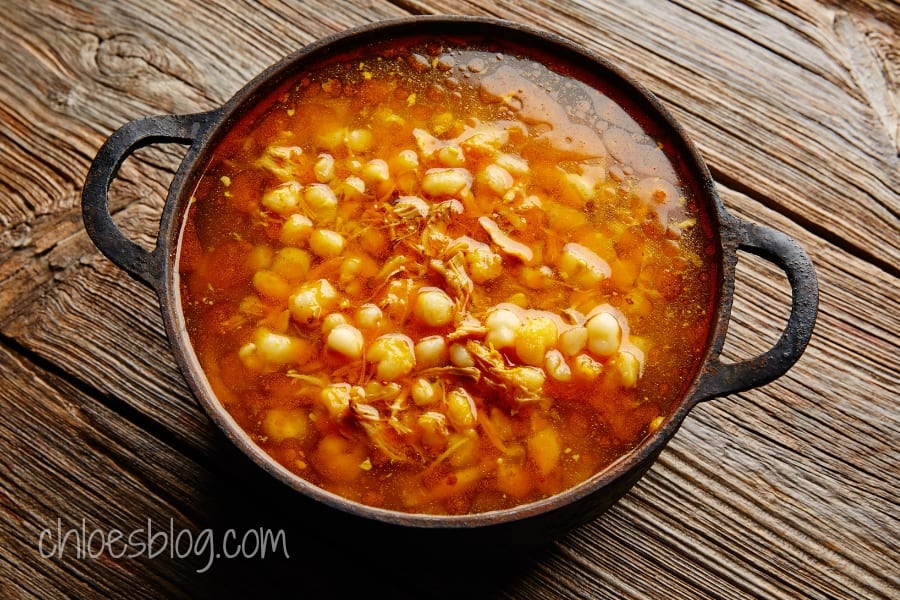 Ingredients
1

medium onion

chopped

3-4

Tablespoons

olive oil

3

cloves garlic

peeled & crushed

32

oz

chicken broth

28

oz

chopped tomatoes

1 large can

10

oz

red enchilada sauce

46.5

oz

hominy, drained

3 cans

Salt and Pepper to taste

20

oz

white meat chicken breast, drained and broken up

2 cans or use leftover chicken
Instructions
Sauté onion in olive oil in a large pot until onion is translucent. Add garlic and sauté for a couple minutes more.

Add chicken broth, chopped tomatoes with their juice, enchilada sauce, drained hominy, salt, and pepper. Simmer until hot.

Add chicken and cook at least 30 minutes. It is fine to simmer on the stove or in the crock pot for longer.
Nutrition
Sodium:
1486
mg
|
Calcium:
70
mg
|
Vitamin C:
19.2
mg
|
Vitamin A:
365
IU
|
Sugar:
8
g
|
Fiber:
6
g
|
Potassium:
498
mg
|
Cholesterol:
60
mg
|
Calories:
326
kcal
|
Saturated Fat:
2
g
|
Fat:
10
g
|
Protein:
26
g
|
Carbohydrates:
33
g
|
Iron:
3.2
mg
Gene Eastham shared this recipe with me after he cooked it for me!
When I was young, we often had hominy served with country ham, especially on cold nights. I cannot find anyone who remembers any of these old hominy recipes.
Surely everyone has eaten grits – at least everyone in the south. It is a staple – we just can't live without our grits. And grits are made from hominy. My mother told me that they used to make their own hominy from the dried field corn they raised for the farm animals.
To make hominy you use lye. Mother's family had a wooden barrel that was filled with hardwood ashes. This was placed under the eaves of the house and rain water ran through it. The resulting product was lye.
They used this to make soap and hominy. I have made lye soap – it is strong, but will surely get chiggers off your skin! Mother said they soaked the dried corn kernels in a solution of lye and water. The lye would "eat off" the husk from the kernels.
Then the hominy was rinsed and rinsed and then stored. They then dried the hominy to store for the winter. I don't know if they made their own grits from this hominy, but I imagine they did.
Try this Pozole and let me know what you think.

Big Mill Bed & Breakfast, Williamston, NC 252-792-8787
Latest posts by Chloe Tuttle
(see all)