Big Mill Bed & Breakfast is now accepting payment in cryptocurrency for all services offered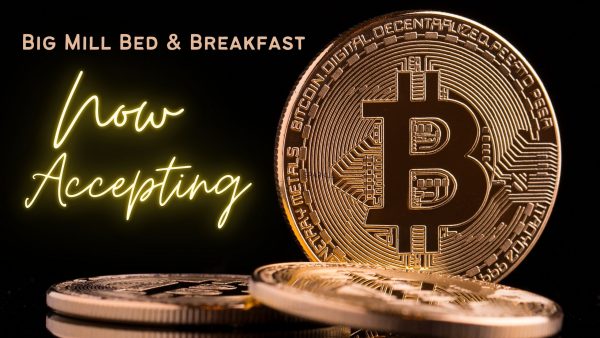 It is not so easy to teach an old dog new tricks – but maybe you can. We studied cryptocurrency and we are ready! You can now pay your bill at Big Mill B&B with Bitcoin or other cryptocurrencies. Cryptocurrency can't be denied; it is already here and we want to make things convenient for our guests.
We think Cryptocurrency is fascinating and we welcome your Bitcoin!
Cryptocurrency will be more and more acceptable and we want to be at the forefront of this trend. We made this decision partly because of the advantage cryptocurrency offers in the legal international trade. For us, hosting international guests is a booming market.
We will now accept Bitcoin, Bitcoin Cash, Ethereum, Dogecoin, Litecoin, USD Coin and DAI. We plan to add to this list in the coming months.
Guests who wish to pay via cryptocurrency will be sent an invoice to pay in crypto prior to arrival … BUT we still like the old standbys — Visa, Master Card and greenbacks!
If you are dying to spend your profits from cryptocurrency – now you can do it at Big Mill B&B!

Big Mill B&B Extended Stay Lodging. 1607 Big Mill Road, Williamston, NC 27892. Tel. 252-792-8787 cell is 252-799-8787, info@bigmill.com and www.bigmill.com
DISTANCES to Hospitals and Towns from Big Mill B&B in Williamston, NC:
Greenville, NC: Vidant Hospital, ECU School of Medicine – 27 miles (country roads)
Washington, NC: Vidant Hospital, Ridgewood Rehab, River Trace Rehab – 21 miles (easy 4-lane drive)
Windsor, NC: Vidant Hospital, Brian Center, Three Rivers Health & Rehab Center – 17 miles (east 4-lane drive)
Windsor, NC: Bertie Rural Health – 20 miles (easy 4-lane drive)
Ahoskie, NC: Vidant – 37 miles (easy 4-lane drive)
Tarboro, NC: Vidant Edgecomb Hospital, Parkwood Village Retirement Center, – 33 miles (easy 4-lane drive)
Plymouth, NC: Domtar Paper – 30 miles (easy 4-lane drive)
Edenton, NC: Vidant Chowan County – 37 miles (easy 4-lane drive)
and North Carolina's Outer Banks!!! are 85 miles
Come to Big Mill B&B just outside the little town of Williamston, NC and enjoy the benefits of home while away from home for your next traveling job or contract.
Latest posts by Chloe Tuttle
(see all)