Bodie Island Lighthouse – a Beacon for Seamen since 1848

Bodie Island Lighthouse was constructed in 1848 on North Carolina's Outer Banks near Oregon Inlet – but it had to be abandoned in 1859 because the foundation was shifting.
And for those who don't know – it is pronounced body, like all the bodies that wash up on the shore. That really is an old yarn, but folks still tell it.
In 1859, a second lighthouse was built and this one had a 3rd-order Fresnel lens that was visible for 15 miles. Two years later in 1861, the Civil War started. Before the Confederates retreated, they blew up the Bodie Island Lighthouse, fearing it would fall into Yankee hands.
Soon after 1872, the third Bodie Island Lighthouse was built, using many of the same construction techniques that made the Hatteras Lighthouse so strong. This 150-foot lighthouse has a 1st Order Fresnel lens and can be seen for 19 miles.
Before electricity, this lighthouse was illuminated with "oil" and the oil the lighthouse keepers in North Carolina had was lard. They had to take 25 pounds of lard up all those 229 steps to the top every day.
If you climb to the top, the view you see is much like the view the light-keepers in 1872 would have seen; it is a beautiful panorama of the Atlantic Ocean.
Lighthouse lovers – Bodie Island Lighthouse is an easy day trip from Big Mill Bed & Breakfast in Williamston, NC. For all lighthouse lovers, this newly renovated gem of lighthouses is a must-see.
Bodie Island Lighthouse is one of four historic lighthouses on the Outer Banks. 165 feet tall, this black and white striped lighthouse is picture perfect.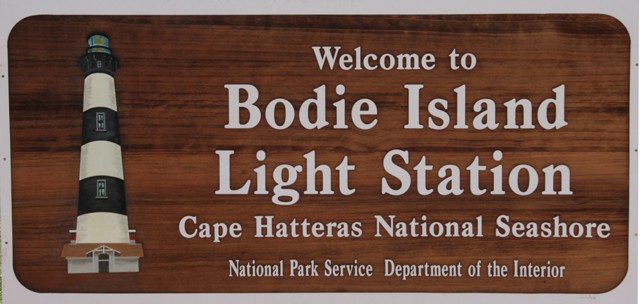 FOR MORE INFORMATION and to PLAN A VISIT
Open Memorial Day to Labor Day 9 a.m.thru 6 p.m, after Labor day facility closes at 5 p.m.
Bodie Island Lighthouse (252) 441-5711
Tours of the lighthouse run from the third Friday in April to Columbus Day in October. Tickets are $8 adults, $4 seniors, children and the disabled. You can make a reservation to climb the lighthouse, all but 10 of the 229 steps – call for information: 252-475-9417 (Reservations cannot be made the same day as the tour). Be sure to take bottled water; there is no air-conditioning or heat.
GETTING THERE:
8210 Bodie Island Lighthouse Rd
Nags Head, NC 27959
199 miles east of Raleigh, NC
92 miles south of Norfolk, VA
239 miles northeast of Wilmington, NC
96 miles east of Big Mill Bed & Breakfast in Williamston, NC (242-792-8787)
Latest posts by Chloe Tuttle
(see all)