We sailed into Green Turtle Cay in the Abaco Islands in 1978 and I met Hank Cochran that day. Hank was lounging on the back of his Grand Banks 50, aptly named "The Legend."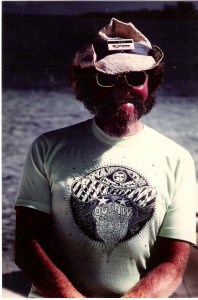 Photo of Hank Cochran by Chloe Tuttle

Garland Perry "Hank" Cochran was born in Isola, Mississippi in 1935. Hank moved to Nashville in 1960, and with Harland Howard he wrote "I Fall to Pieces." Patsy Cline recorded it in November of 1960 and, as we know, it became a big hit.
Hank wrote many songs including "She's Not You," "Don't You Ever Get Tired of Hurting Me?" "Little Bitty Tear," "Why Can't He Be You?" and "Make the World Go Away."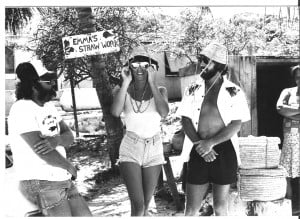 Hank Cochran, Chloe Gurkin McHorney Tuttle and Captain Joe 1979
(Photo by Joy Greyer)
Hank invited us to go fishing one Sunday afternoon – we didn't get back until Wednesday. But that was Hank. It was fun to watch his creative process – it would just happen. Someone would say something, or a thought would come to him. He wrote it down on anything handy, and soon it was a song. He told me heartache made writing easier. He surely knew how to do that.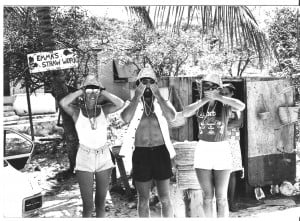 Hear no evil, See no Evil and Speak no Evil… photo of
Chloe Tuttle, Captain Joe and Joy Greyer
(Photo by Hank Cochran using Joy's camera)
When I met Hank, I had no clue I was meeting such a character. That same day I also met a wonderful woman Joy, who would became a cherished lifelong friend. We weathered many wet days that winter in the Bahamas, the guys played lots of Crazy Eights and Hearts. We took many trips to Miss Emily's Blue Bee Bar.
Back then I was cleaning conch and making slaw. Now I am an Innkeeper growing blueberries and making jam. What a great life, eh?
Some times when I am here on the farm that is now Big Mill Bed & Breakfast, my mind wanders back to my sailing days. I remember places I went but mostly the people I met. And Hank Cochran, The Legend, the Man…is high on that list.
The world lost Hank on July 15, 2010. He left behind a legacy in country music. We will miss you, Hank. And you made it to the Rolling Stone.

Big Mill Bed & Breakfast 252-792-8787
Latest posts by Chloe Tuttle
(see all)