If you venture to Southern Pines, NC on Thanksgiving Day, and stand with horses and hounds on Hobby Field, you will hear the Episcopal priest begin his blessing:
"Bless, O Lord, we beseech You, rider and horse and hound. Shield the rider from danger to life and limb, and may the chase bring to him vigor of body and clearness of mind.
May the horse that carries him come unharmed to the close of the hunting day, and be regarded as man's helper in his work and in his play…." This blessing extends to the hounds, the horses, the riders and even the fox.
Photos by Stacey van Berkel of Stacey van Berkel Photography

A fox-scented rag is dragged over the path, a sharp blast from a horn is sounded and the hounds are off – riders in pursuit. The hunt is on.
North Carolina is rich in the tradition of the hunt – with or without the fox.
These captivating photographs were taken by Stacey van Berkel of Stacey van Berkel Photography. Well, Stacey came to Big Mill Bed & Breakfast and took many of the photos on our website. And she has been busy. She has taken the cover photos for Our State Magazine three times in 2010, or maybe more!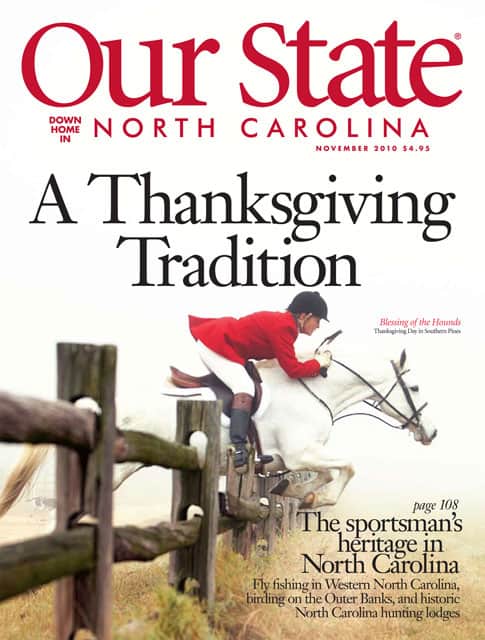 Photo by Stacey van Berkel.
Way to go, Stacey! And thanks for sharing with Chloe's Blog and Snapshots of Eastern North Carolina.

Hope to see you at Big Mill Bed &Breakfast in Williamston, NC 252-792-8787
If you plan to attend this year's Blessing of the Hounds:

When: Thanksgiving Day, 10 a.m. (November 27, 2014)
Where: Hobby Field, 3116 Youngs Road, Southern Pines, NC 28387
Details: Recorded message — (910) 692-6889

View Blessing of the Hounds in a larger map
Latest posts by Chloe Tuttle
(see all)