I love the pecan trees that my parents planted in 1922 –
and honey roasted pecans are just the best.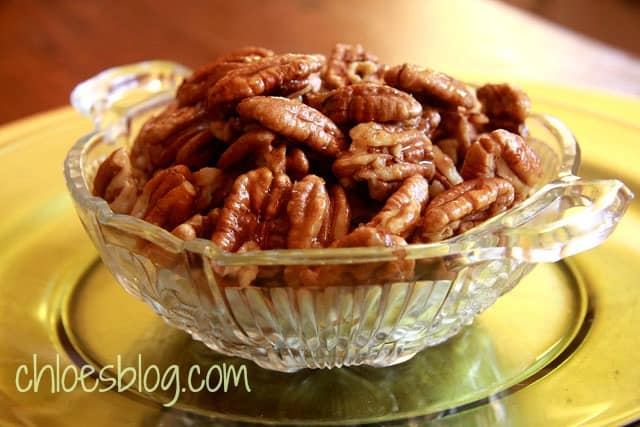 This year I picked up 6 bushels of pecans. Hurricane Sandy knocked them off the trees for me. I had the pecans cracked at Martin Supply and then I picked them out. I usually sell some of my pecans, but this year I decided to keep them all for the Bed and Breakfast and friends.
These honey roasted nuts are crispy, sweet and a bit salty – perfect for snacking and parties. And this recipe is so easy!
Honey Roasted Pecan Recipe
3 cups shelled pecans
3 Tablespoons honey
1/2 teaspoon salt plus extra for sprinkling
Preheat oven to 250 degrees. Spray a heavy, rimmed cookie sheet with cooking oil spray. Place pecans on cookie sheet in a single layer.
Bake pecans for 7 minutes. Remove from oven and put nuts in a medium sized mixing bowl. Add 3 Tablespoons honey and stir to coat pecans. Add 1/2 teaspoon salt and stir again.
Spray cookie sheet again and put nuts on the sheet in single layer. Bake at 220-250 for 1 1/2 to 2 hours, stirring one time.
Remove from oven and sprinkle with a wee bit of salt. Separate any nuts that have clumped. Cool and store in air tight container. Nuts will keep fresh for at least a week.
Yield: 3 cups


Big Mill Bed & Breakfast 252-792-8787
Latest posts by Chloe Tuttle
(see all)