A whirligig can do all things: milk a cow, catch a fish, decorate a tree, wash clothes, even ride a bicycle…anything that has movement. I have been fascinated with these wonderful toys for as long as I can remember.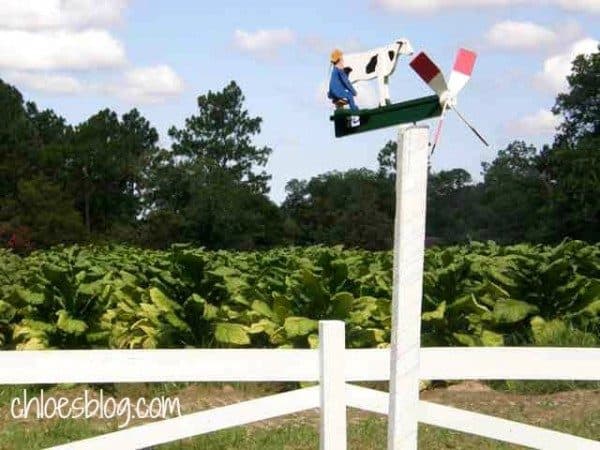 Whirligig overlooks Tobacco Field at Big Mill B&B
Maybe I shouldn't assume that everyone knows what a whirligig really is… Whirligigs are whimsical, wind-driven folk art that might remind folks of a "comic weather-vane." Most are made of wood by craftsmen and are used purely to decorate or add joy, often to a garden.
Please note the plant in the background – it is newly planted tobacco. North Carolina is still a tobacco-producing state. Although Big Mill B&B is totally non-smoking, our guests who feel they would like to enjoy a pipe or a smoke outside are welcome.
Called the Junkyard artist, Volis Simpson created many yard art beauties like this helicopter. I was lucky enough to meet him; he has since passed away.
King Tobacco growing on the farm at Big Mill B&B
It would be way too sanctimonious for us to refuse, since they can see the beautiful plant growing just outside the door. In a few months, this plant will have pretty, albeit sticky, pink flowers. I will keep you tuned to the progress of King Tobacco.

Big Mill B&B, Williamston, NC tel. 252-792-8787
www.bigmill.com
90 miles east of Raleigh, NC
103 miles south of Norfolk, VA
94 miles west of Nags Head, NC
145 miles north of Wilmington, NC
I am a farm girl who sailed the world, returned home to the family farm and opened
Big Mill Bed and Breakfast
. Join us for Business EXTENDED STAY or a quiet getaway 252-792-8787.
Latest posts by Chloe Tuttle (see all)