You can step right off your boat and sit at the tables with the cute umbrellas…the view of the Atlantic is breathtaking. Once Ed and I ordered a glass of wine and it was so bad we dared not throw it overboard…that would be polluting and an environmentally serious Innkeeper couldn't do that. Luckily the wine list has improved.
The standout winner for the Big Mill B&B award for the best Keysy Bar is No Name Pub in Big Pine Key. Decorated with thousands of old dollar bills, this is the real thing. It has been around since 1935 and it rather looks like it. Yes, that is a tree that fell on the building…don't worry, it was still open for business.
"A nice place if you can find it."
That is very true. Heading south you turn right in Big Pine Key and wander around for quite awhile in residential neighborhoods. Then just before you head over the bridge to No Name Key up pops the No Name Pub.
The first time that Joy, Patrick and I went to No Name Pub several of the chairs only had three legs. Patrick tried to drink all of the Killian's Red so he didn't care about the chairs. Now he is the designated driver. Funny what age does to us, eh?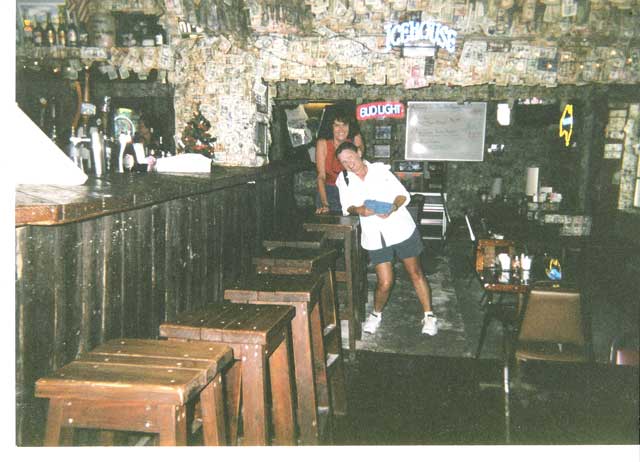 Chloe and Joy inside the No Name Pub
The Pizza is actually quite good. I hope this place with all its history will be here for a long time. Do NOT miss The No Name Pub-it is one of a kind. I am sure Jimmy Buffett approves.
It is obvious that there are just too many great watering holes in the Keys.

Big Mill Bed & Breakfast 252-792-8787
(The Innkeeper has taken time away from eastern North Carolina to join dear friends Patrick and Joy at friends George and Louise's house in the Florida Keys.)
I am a farm girl who sailed the world, returned home to the family farm and opened
Big Mill Bed and Breakfast
. Join us for Business EXTENDED STAY or a quiet getaway 252-792-8787.
Latest posts by Chloe Tuttle (see all)