Lake Mattamuskeet and the Pocosin Lakes of eastern North Carolina come alive every winter as thousands of tundra swans and snow geese make the journey from the Alaska tundra to our Inner Banks. Both refuges are an easy day trip from Big Mill Bed and Breakfast.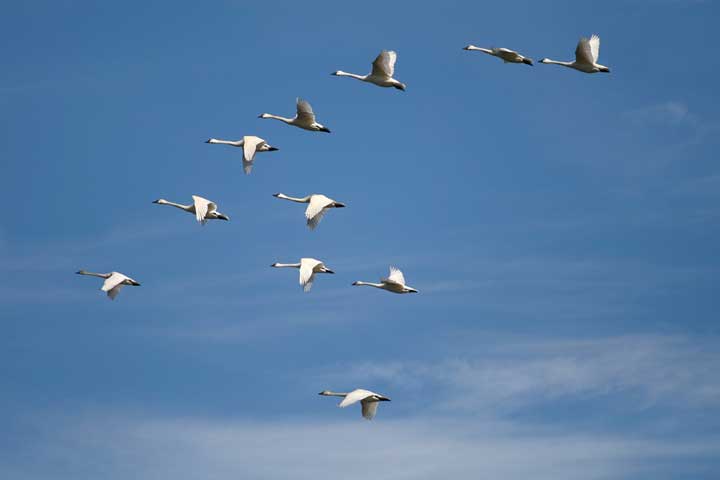 Photo of Tundra Swans by Guy Livesay of Livesay Photography
As many as 20,000 Tundra swans and 80,000 snow geese overwinter in these refuges. These magnificent swans and gregarious snow geese feed in the fields during the day and return to the lakes, rivers and sounds for the evening.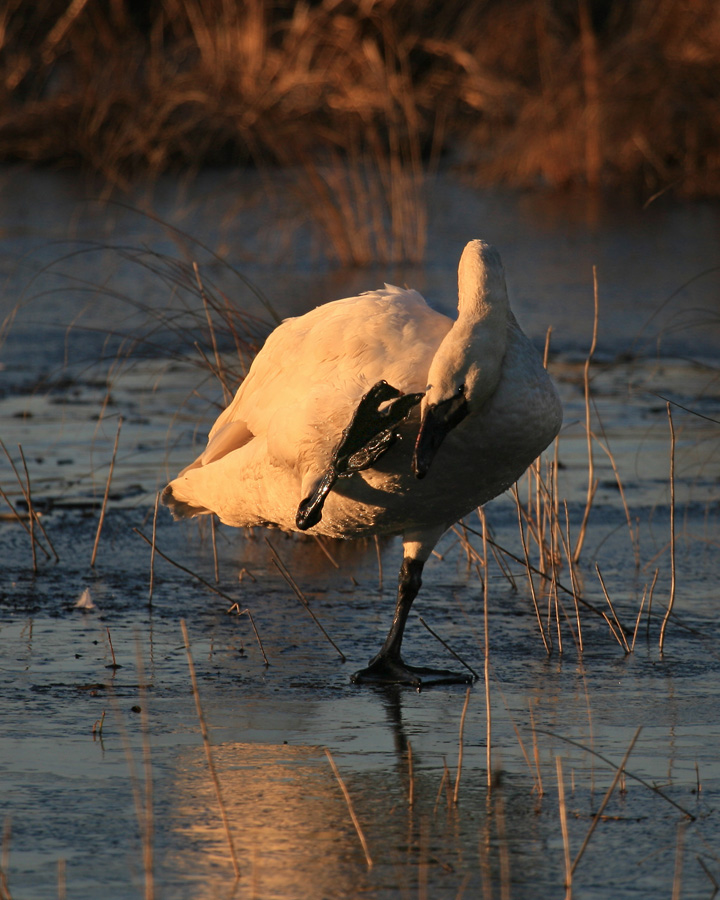 Photo of tundra swan by Guy Livesay
There are over 50,000 acres in the Lake Mattamuskeet National Wildlife Preserve in Hyde County and over 110,000 acres in the Pocosin Lakes Wildlife Preserve in Hyde, Tyrell and Washington counties.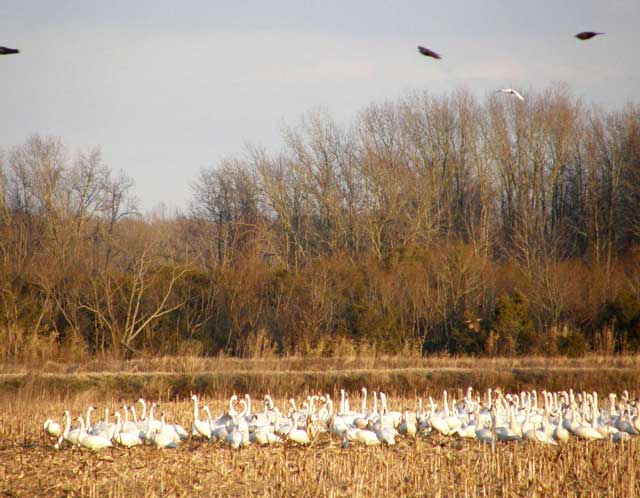 Pocosin is an Algonquin word meaning swamp on a hill. A type of shrub bog, the Pocosin habitat is unique to the southeastern US from Virginia to Florida, but most common in eastern North Carolina. I can still remember my mother talking about some wild-haired person as "looking like a Pocosin bull," usually in reference to an unkempt relative.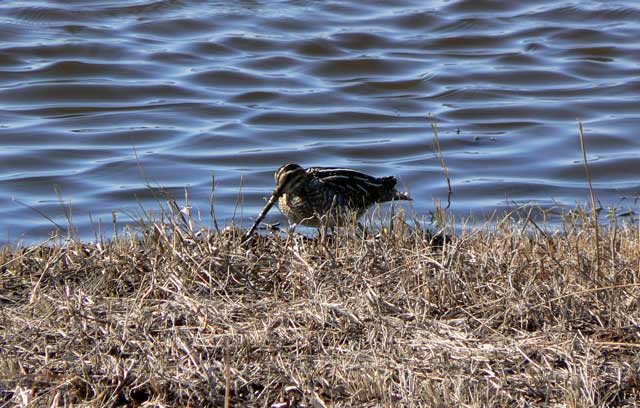 Wilson snipe photo taken by Big Mill guests Jane and Craig
Pocosin Lakes is also home to raptors, black bears and the red wolves and the Red-cockaded woodpecker; and neo-tropical songbirds can be seen here in summer and on their spring and fall migrations.
Fires burn often in these peat bogs and in June, 2008, lightening started a wildfire that burned 40,000 acres in ten days; smoke drifted as far west as Raleigh. This fire continued to burn for most of the summer of 2008, burning thousands more acres of peat bog. Birds and wildlife were displaced but they are very adaptable. Scientists think that the fire may actually be a benefit to the preserve habitat.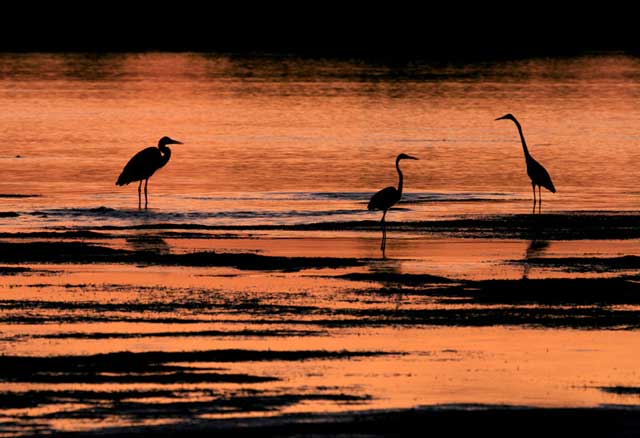 Lake Mattamuskeet at sunset by Guy Livesay
Fires are not the only threat to these fragile lands. The Federal Government planned to acquire 30,000 acres for military purposes to build an Outlying Landing Field near the Pocosin Lakes Refuge where jets would battle the swans. A hue and a cry went up from residents of these small family farms, who were joined by other folks who cared. Nearly every yard in these inland coastal counties had its NO OLF sign.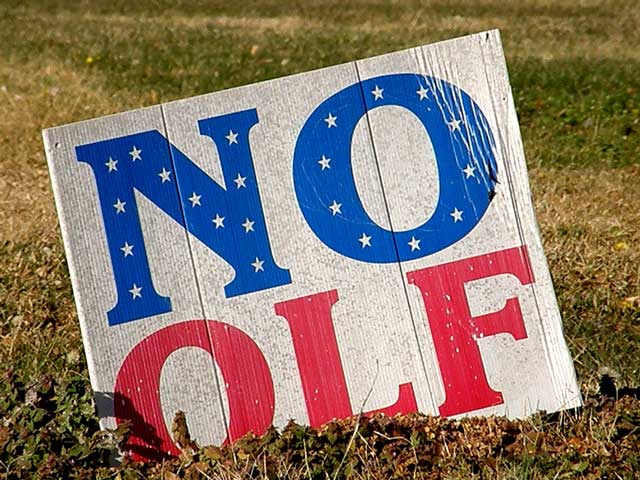 After a long, tedious and bitter battle the Navy announced on January, 2008, that it was abandoning the project. I could hardly believe it, that residents, man and beast, reptile and fowl of the Pocossin won. Still to this day I cry every time I think about this victory. You can still see NO OLF signs in yards-some folks don't want us to forget this hard-won fight.
Thanks to my birding friends I have met here at Big Mill B&B for all the birding tips and the great photos. Some of these folks belong to the Carolina Bird Club and their January, 2009, meeting was held in Williamston. Club members made numerous field trips and recorded 126 species of birds.
Big Mill Bed & Breakfast has recently been designated a Birder Friendly Business by the North Carolina Birding Trail.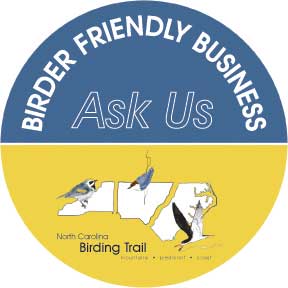 Bird watchers are a great bunch of folks and they are trying so very hard to teach me to recognize all the birds that come to Big Mill for Bird and Breakfast. And if I name a bird incorrectly I expect my birding friends to let me know.

Big Mill Bed & Breakfast 252-792-8787
While you are in eastern North Carolina be sure to check out Sylvan Heights Waterfowl Park in Scotland Neck.
Latest posts by Chloe Tuttle
(see all)