Every farm and definitely every farm girl needs an old red truck. Somebody must agree because photos of old red trucks are everywhere – on fancy dishes, Christmas decorations, everywhere you look.
One Christmas I parked my Old Red Truck in front of the Pack House and decorated it with a Christmas tree and wreath with sparkling fairy lights everywhere. It certainly was popular with my guests and anyone who rode by.
When January came, Old Red didn't want to go back under the shelter. Nephew Monk had to bring his big tractor and drag her out of the yard.
Other folks seem to like old red trucks too: friends got together and had Old Red sit for a portrait. I love it. I have old red truck dish towels, sheets, dishes, door mats … these things just keep turning up.
Renowned photo artist, Stacey Haines, took my portrait in Old Red. This special truck has certainly been a topic of artistic merit!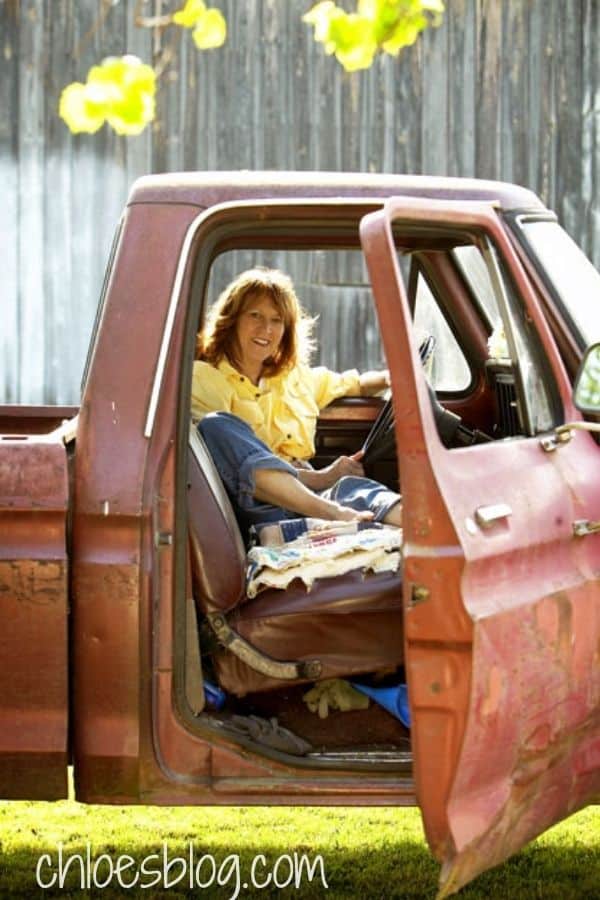 I must tell the truth — when David Tuttle left the farm he told me I could keep that "piece of junk old truck," so I did. I am determined to keep her running, maybe not on the road, but "farm worthy." She has caught on fire three times, not really her fault. I think David wants her back!
She has a 1973 body and a 1966 engine (390 C.I.D. S-code). Like me, she can use her age to her advantage – her tags are cheaper. If older is better, Old Red is getting greater! This truck is a "shade tree mechanics" nirvana. It was under these pecan trees that David Tuttle used a Come-Along to remove Old Red's original engine and install a Thunderbird engine.
I have replaced the tires ($20 each), water pump, starter, carburetor, ignition key, gas tank and gauge, and other stuff I can't even remember. I am determined to keep Old Red in the family.
Hopefully, the next time I see you, Old Red will be running!
YES, we are open and we hope you will come and stay at Big Mill B&B Extended Stay. Come enjoy the benefits of home while away from home for your next traveling job or contract in eastern North Carolina.

Big Mill B&B Extended Stay Lodging. 1607 Big Mill Road, Williamston, NC 27892. Tel. 252-792-8787 cell is 252-799-8787, info@bigmill.com and www.bigmill.com
DISTANCES to Hospitals and Towns from Big Mill B&B in Williamston, NC:

Greenville, NC: Vidant Hospital, ECU School of Medicine – 27 miles (country roads)
Washington, NC: Vidant Hospital, Ridgewood Rehab, River Trace Rehab – 21 miles (easy 4-lane drive)
Windsor, NC: Vidant Hospital, Brian Center, Three Rivers Health & Rehab Center – 17 miles (east 4-lane drive)
Windsor, NC: Bertie Rural Health – 20 miles (easy 4-lane drive)
Ahoskie, NC: Vidant – 37 miles (easy 4-lane drive)
Tarboro, NC: Vidant Edgecomb Hospital, Parkwood Village Retirement Center, – 33 miles (easy 4-lane drive)
Plymouth, NC: Domtar Paper – 30 miles (easy 4-lane drive)
Edenton, NC: Vidant Chowan County – 37 miles (easy 4-lane drive)
and North Carolina's Outer Banks!!! are 85 miles
Latest posts by Chloe Tuttle
(see all)