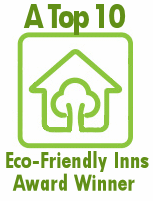 Not one to toot my own horn, I just have to share this good news. Big Mill B&B has been singled out as one of the Top 10 earth-friendly inns by BedandBreakfast.com. And we are the only North Carolina Bed and Breakfast to make the cut. WOW!
Of course, it was wonderful to be acknowledged last year when the Washington Post ran the article about our clothesline. And now, to be in such good company with other environmentally-friendly bed and breakfast owners … I'm just tickled.
That said, I realize that so many of the things we do here at Big Mill are second nature. I'm always surprised when guests thank me for sharing a green-friendly tip or trick they didn't realize. I have a million of 'em I learned from my mom Hmmm, I should post some of these on my blog.
In fact, I'm working on a new post called "Paper or Plastic." It should have been finished by now, but I got so fascinated learning new things retailers are doing, it has taken me longer to wrap up the article. But, I promise to have it ready for you in the next day or so. It's very interesting, if I do say so myself
We save the seeds every year from these stately sunflowers; some to feed the birds, some to grow new sunflowers.
Big Mill Bed & Breakfast 252-792-8787

Latest posts by Chloe Tuttle
(see all)