"Miss Sadie" James ran the Big Mill gristmill
for as long as I can remember.
In the 1940's prior to when she and her husband, Columbus, bought it, it had been a water-powered sawmill. It was converted to a grist mill, the stones to grind the corn were shipped over from England.
Sometime later in the night, the dam was blown up. After that there was a long pulley attached to a tractor that powered the mill. It was a fascinating place where you could get the best ground corn meal ever.
I rode my bicycle there every day. Sometimes I played in the creek behind the mill, but more often I just talked to Miss Sadie. Often nephews Barney or Monk went with me – at times we rode a mule or drove an old pickup truck before we were legal.
Miss Sadie also had a small country store and sold things like penny candy and small Coca Cola in a bottle – she kept her drinks in one of those box-type coolers.
She lived in the store too. And she had a big gun…folks tried to rob her several times; but they were foiled.
Other folks thought she was odd, but not to me. She had one light bulb and no running water. She cooked on top of a pot belly stove, she wore her dead husband's shoes. Fine with me.
Ben Roberson bought the mill and moved it to his farm. He and his wife Mary resurrected a great mill. It has all the parts, but it is different – still wonderful.
The mill had such fascinating parts.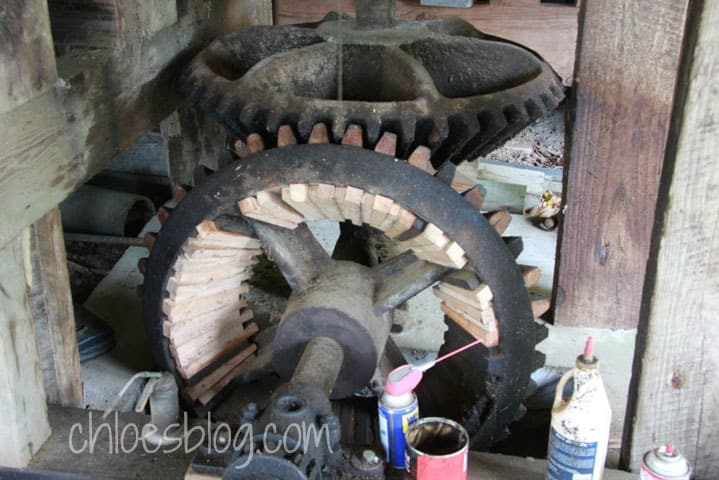 (New photo, guess you can tell by the WD-40)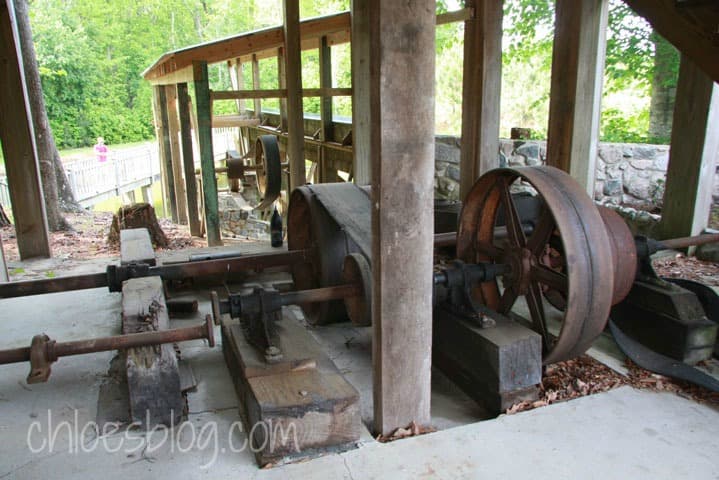 P.S. thanks to all the Chloe's Blog readers who told me that I can't spell "Dam." Too funny.

from Innkeeper at Big Mill Bed and Breakfast 252-792-8787
Latest posts by Chloe Tuttle
(see all)