Martin Supply in eastern North Carolina is just as it has always been. And they buy and sell pecans. Farmsteads throughout the south have pecan groves. And all the southern cooks like Paula Deen have great pecan recipes, and Bourbon Pecan Pie is on everyone's list.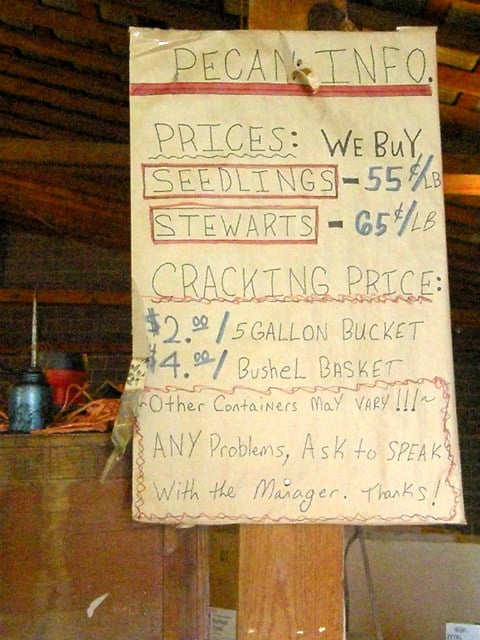 Every year a company from Georgia comes to Martin Supply in Williamston to buy pecans. Folks from all over the neighboring counties motor over to sell their pecans. The small pecans called "seedlings" are from a tree that grew from a seed and not from a graft. Stuarts are the large, prized pecans, like we have on the farm here at Big Mill B&B.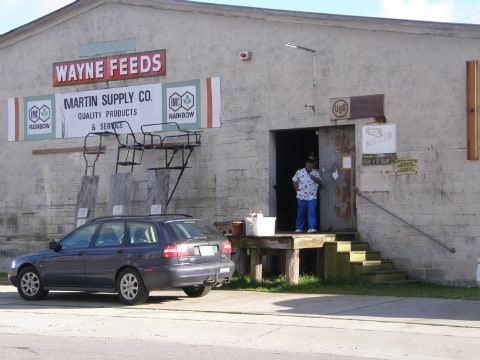 My B&B guests love Martin Supply and mingling with the farmers who hang out at the store. You can buy a flannel shirt, seeds, hoop cheese, a Radio Flyer wagon, a squirrel trap, honey, shot gun shells, fertilizer and all that farm stuff and pecans, of course. They sell the gadget to pick up the pecans. It is a nostalgic old store just like small town stores used to be.
I remember many types of gadgets my folks used to crack our pecans. D.J. made me an electric cracking machine that walloped one pecan at a time. It was very interesting but loud and rather messy. Then we had one machine that used a giant rubber band. These ingenious pecan cracking machines are fascinating. One even is called a Kinetic Kracker.
But in the past few years I have gone to Martin Supply uptown in Williamston and let them crack all the pecans with their ingenious pecan cracker. I even sent guests to watch this marvel.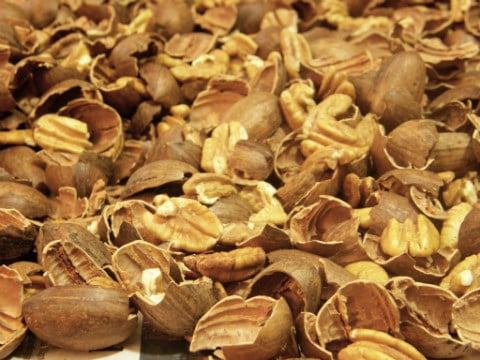 The pecans are poured into the top of the machine and they slowly move through it, sending the cracked nuts out the hopper and some of the shells fall out the bottom. When you get the cracked nuts you have to scratch around, separating the broken shells from the pecans. There is an art to all of this, mind you. It can't be rushed.
And after you gather up your pecans and shells, one needs to lay out the pecans on newspaper to dry a bit. Then you pick through them, removing all the shells. We recycle these shells by spreading them in the yard; the birds love it. Big Mill is eco-friendly. Trip Advisor gave us its prestigious Green Leaders award.
I too will buy some seeds in spring so that I can fill my pantry with canned goods, just like my folks did. I am well supplied with organic pecans for the breads we make here at the Bed & Breakfast. Moses used to help with picking up the pecans; this year it was cold so she wasn't much help.
I don't know who planted all these wonderful trees in eastern North Carolina, but I thank them. I am saddened when I see these grand old groves cut down. My folks planted at least seven pecan trees in our yard in 1922 here at Big Mill. Three were cut down years ago, but four spreading pecan trees remain, with wonderful shade in summer and sweet, paper-shell pecans in the fall.
I would love it if you would share your pecan recipes with me.

Big Mill Bed & Breakfast 252-792-8787
Latest posts by Chloe Tuttle
(see all)