I love our new hand-drawn B&B farm map – made just for Big Mill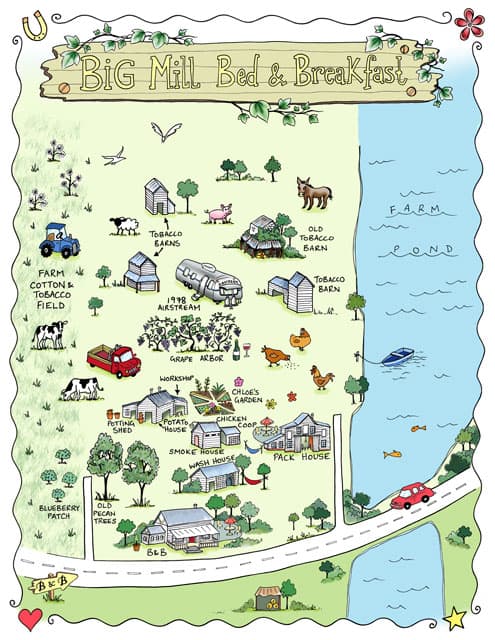 I love the outbuildings here on the farm – they are almost 100 years old. We have the Smoke House where my folks cured sausage and hams and stored the lard and fatback to feed five families; the Wash House where my mother heated the water with wood to wash the clothes; the Pack House where the mules lived; the Sweet Potato House where they cured the sweet potatoes; the Chicken Coop where we had chickens – my job was to gather the eggs.
We had tobacco barns for curing the tobacco, some were wood-fired and there were sheds for storing tools and equipment. It is all still here on the farm.
We used to raise cows, mules, pigs, chickens…Lydia even added a sheep. My sheep, Maggie Belle and Yorick, came here to live when I moved to a sailboat. They loved the pastures. If you look closely, you can see Sophia, my calf, and my favorite mule, Mary.
Our wonderful map was drawn by Lydia at Hand Drawn Maps.
Now when our guests stroll around the farm they can better understand the heritage of all these wonderful old farm buildings. Call us to book a stay

Big Mill Bed and Breakfast 252-792-8787
Latest posts by Chloe Tuttle
(see all)