Did you know that Grits are made from corn? And stone ground grits are the best.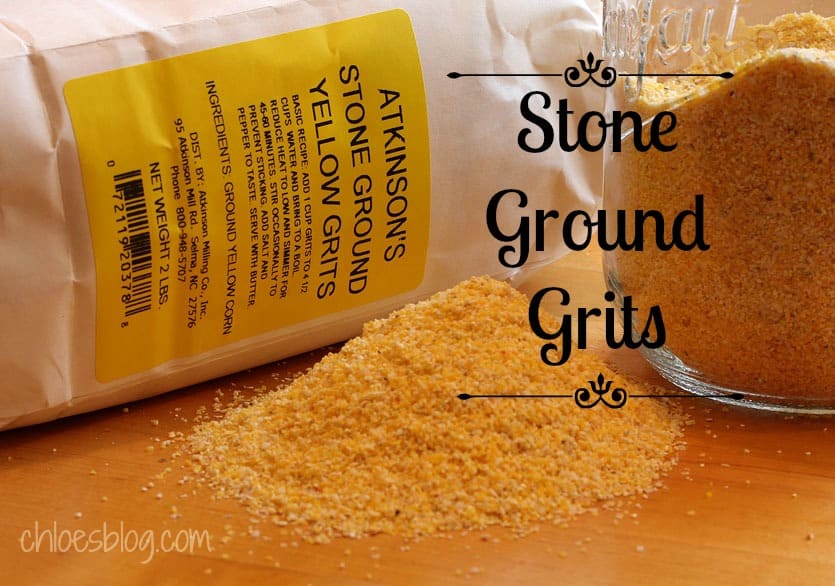 Atkinson Milling Company in Selma, NC produces some of the best grits. I've tried many kinds and theirs are the best.
I was looking for local stone-ground North Carolina grits to serve at Big Mill Bed & Breakfast and I found them at Atkinson Mill in Selma, NC. Joseph Wheeler, whose grandfather owns the mill, gave us the grand tour of this fascinating and quite extensive mill. You could just tell that Joseph loves this business and he loves the mill and its history.
Wandering around in the mill there is a yellowish haze everywhere. We had corn dust all over us!
Did you know that some grits are white and some are yellow? I learned that all corn isn't equal and that yellow corn is a wee bit more difficult to grind than white because yellow has more moisture. And you can't grind the corn too fast, the stones heat up and the grits will be too dry.
Click on this short video to see how grits are ground!
As you can hear, grinding grits is LOUD. In case you can't decipher what Joseph is saying in the background, here is is explanation of the grits-grinding process: "The corn works its way through the rocks – as it works its way out it gets busted up. It's just as much a cutting process as it is a grinding process. When you think of grinding corn you think of pulverization. But that is not really the case – it is actually a lot more delicate and precise." And each batch of grits is sifted several times to remove any corn that has been ground too fine.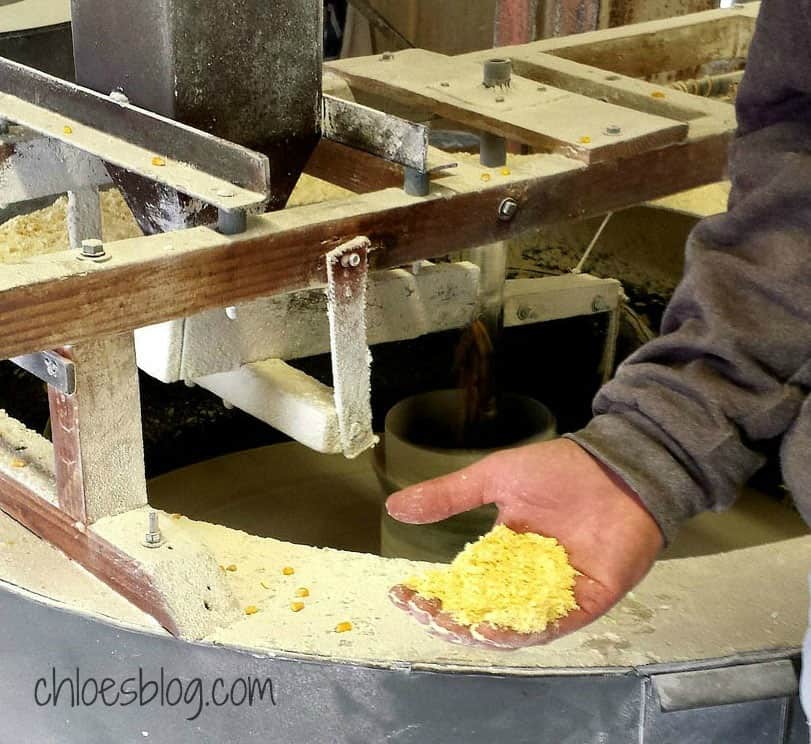 When I was a child I rode my bike to Miss Sadie's Big Mill just down the road. You may remember that Big Mill is named for this wonderful old mill. Miss Sadie told me she she bought that old grist stone from England -it came over by boat in the forties.
Being from the south I ADORE grits, so it was high time I found another grist mill. I bought many bags of grits that were made here in North Carolina and my favorite are the grits from Atkinson Milling Company in Selma – about 94 miles from Big Mill. The original mill was built in 1757. There is a lot of history in Atkinson Mill in Johnston County, NC. It has burned, been passed down through families and since 1971 it has been in the Wheeler family, the present owners.
North Carolina is proud of its grits; we have grist mills all over the state. Atkinson ships all over the country and for Parker's Barbecue fans – they use Atkinson corn meal in their hush puppies and corn sticks.
These stone-ground grits are not like the Quaker grits you find in the grocery store. The Quaker grits are par-cooked. I am working on some good grits recipes, will post soon.
Atkinson Milling Co., Inc.
95 Atkinson Mill Rd, Selma, NC 27576
email: information@atkinsonmilling.com
Tel: 919-965-3547
http://atkinsonmilling.com

View Atkinson Mill in Selma, NC in a larger map
DISTANCES FROM:
33 miles east of Raleigh, NC
62 miles northwest of Greenville, NC
109 miles east of Greensboro, NC
94 miles west of Big Mill Bed & Breakfast in Williamston, NC 252-792-8787

Latest posts by Chloe Tuttle
(see all)