The Sign Says it Best: "Blow horn for ferry."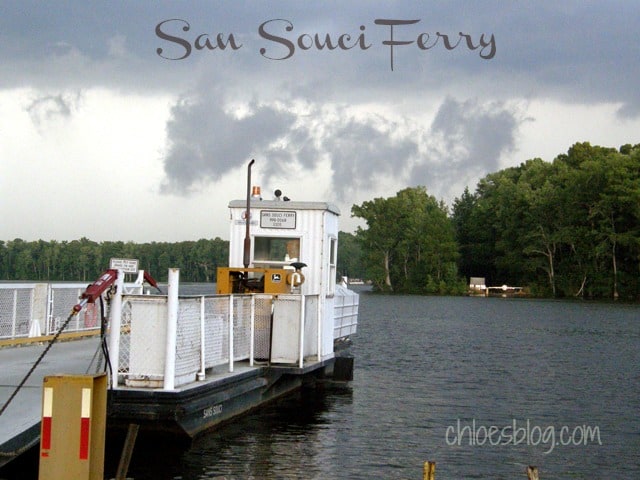 See the tiny house across the river? That is the other ferry dock.
The San Souci Cable Ferry crosses the Cashie River in eastern North Carolina near Windsor in Bertie County.
Lest you ever try to tell anyone about this ferry, first — you must have a language lesson. Forget the Southern part, that is a given. The local part is more important.
As for the river, it is the Kah-shigh' — with the accent on the last syllable and the "i" is long.
San Souci is pronounced "Sanns Soo'cee," with the accent on the middle syllable.
And finally, the county is Bertie — pronounced Burr'tee, accent on the first syllable.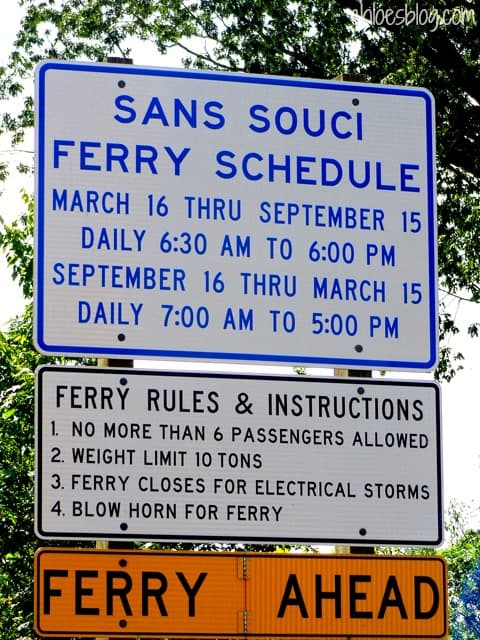 NC State Road 1500 ends abruptly at the Cashie River. There is no bridge, but there is a sign that tells you to blow the horn if you want to ride the ferry. There is never a crowd. One day when I went, I interrupted a checkers game. I rode the ferry across the river and then I rode back.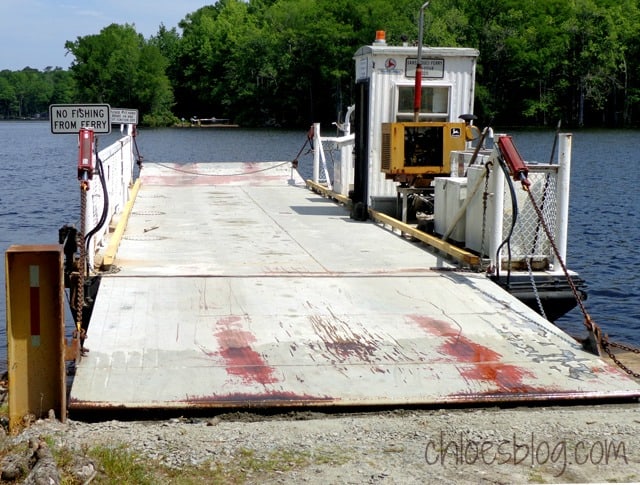 There are only three of these ferries left in North Carolina. Some say it is a two car ferry, but I have never been on it with another car. Rollers on the side of the ferry pull the submerged cables out of the water as the ferry crosses the river. The ride takes 5 minutes, but saves a 20 mile drive if you want to get to the other side.
The Cashie River is beautiful – it winds slowly through Bertie County to the Albemarle Sound. For miles, it curves through swamps and wetlands. Trees grow right up on the banks.
Locals ski on the river, fish, sit on docks and watch other folks motor by. It is a good way to spend a lazy summer day and a great day trip from Big Mill Bed and Breakfast in Williamston, NC.
FOR MORE INFORMATION:
Contact: 252-794-4277 Be sure to call. The schedule changes.
Tickets – Free
Getting There: Ferry is at the end of San Souci Ferry Road (State Road 1500) All of the mapping directions from Big Mill sent me the wrong way, so best to use the Lat/Long below:
Latitude: 35.910751 / Longitude: -76.817257
DISTANCES FROM:
125 miles east of Raleigh, NC
100 miles south of Norfolk, VA
25 miles northeast of Big Mill Bed & Breakfast in Williamston, NC | 252-792-8787

View San Souci Ferry in a larger map
I am a farm girl who sailed the world, returned home to the family farm and opened
Big Mill Bed and Breakfast
. Join us for Business EXTENDED STAY or a quiet getaway 252-792-8787.
Latest posts by Chloe Tuttle (see all)