You can smell the vinegar & red pepper before you enter
the door of the Skylight Inn in Ayden, North Carolina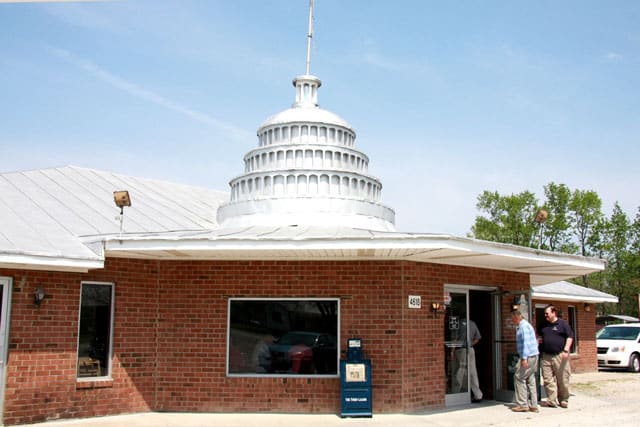 Since 1947, Pete Jones and family have been serving this tasty eastern North Carolina style barbecue (always pork) to locals and folks who are willing to travel long distances. They cook whole hogs, over oak. To BBQ enthusiasts, this is essential.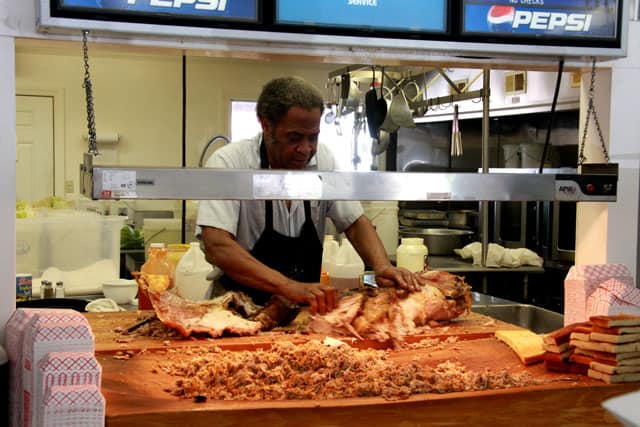 Tap, tap, tap . . . that is the sound of the Skylight Inn. You can see the meat as it is being chopped, right there in front of you . . . tap, tap, tap.
As I stood there trying to see what was on the menu, a local fellow leaned in and said to me, "If you want something other than Barbecue, you have to come on Thursdays . . . they have chicken on Thursday."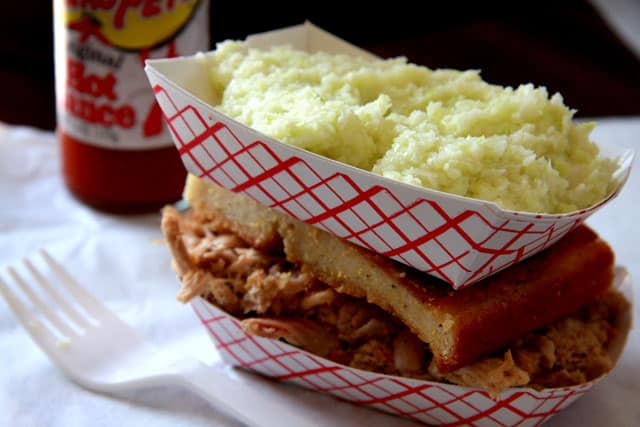 The menu let me know that today I could get a small barbecue or a large barbecue. That was fine with me. I had driven to Ayden to eat barbecue. Lots of folks come to Ayden for the barbecue – George W. Bush, Daisy Duke, Ronald Reagan. According to the N.C Barbecue Society, the North Carolina Barbecue Trail starts in Ayden at the Skylight Inn.
In 2003, they received the James Beard award, have had stories written about them in the Saveur Magazine and the Roadfood series by Jan & Michael Stern.
Saveur Magazine calls it "North Carolina's finest pulled pork." And Southern Living lists the Skylight Inn as one of the "South's 20 Best BBQ Joints."
Yum, that is the taste of the Skylight Inn Barbecue – 'tis great roadfood. And, that same cute fellow who leaned in to tell me the menu, bought me lunch.
P.S. We don't care if Rick Perry doesn't like eastern North Carolina barbecue. Bet he is sorry he made that barbecue remark!
*You are welcome to use these Skylight Inn photos, just let me know and give me, Chloe's Blog and Big Mill Bed & Breakfast credit. Thanks!
Skylight Inn 4618 S Lee St, Ayden, NC 28513
(252) 746-4113
Distances From:

View Skylight Inn Barbecue in Ayden, NC in a larger map

Big Mill Bed & Breakfast 252-792-8787
Latest posts by Chloe Tuttle
(see all)