I love growing okra – it reminds me of late summer on the farm
With all the great summer produce, sometimes we just want to make something that takes us back to the farm and to Grandmother's cooking. In coastal North Carolina, this recipe is an expected summer treat.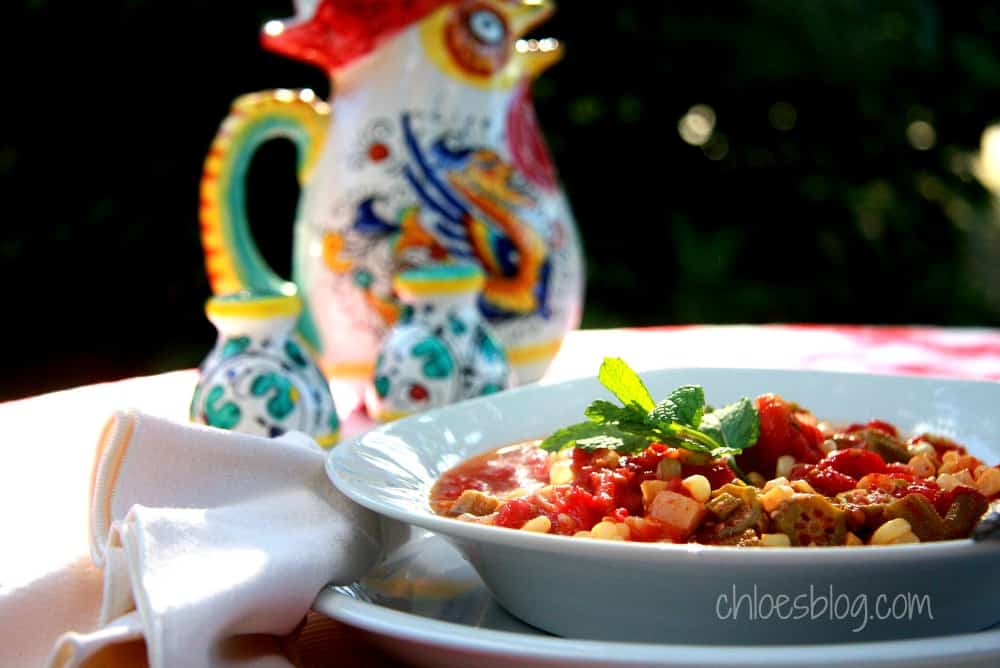 Ingredients
• 1 large sweet onion or 2 small onions

peeled and chopped

• 4 Tablespoons butter

• 2 cups fresh

tender okra (about a double hand full)

• 6 large ripe tomatoes

or a 28-ounce cans whole, peeled tomatoes - canned tomatoes are fine

• 3-4 ears of fresh

mature corn

• 1 teaspoon sea salt or regular salt

• Pepper

if desired

• ½ cup water
Instructions
Melt butter in a large saucepan. Cook chopped onion for a few minutes until transparent, not browned.


While the onions are cooking, blanch the tomatoes for half a minute. Drain and cool tomatoes. Peel, remove the cores and cut into chunks, making sure that you save the juice. If using canned tomatoes, cut the tomatoes into large pieces, saving the juice.


Wash the okra. Cut stem ends off and cut into ½ inch round pieces.


Shuck corn and cut corn off the cob. Older or mature corn works best for this recipe.


Add the tomatoes and juice, okra, corn, salt, pepper and water to the cooked onions. Cook covered over medium to low heart for one hour or until the ingredients are all done.


Serve with homemade cornbread.


Yield: 7-8 one-cup servings
Okra's flowers are gorgeous and it is a tasty and versatile fruit. Yes, technically okra is a fruit because it contains seeds. The plant itself is thought to be of African origin and is in the same family as cotton and hibiscus plants. Do you grow okra in your garden or buy it at your local Farmer's Market?
And don't forget — dried okra makes great craft projects like this wonderful Santa Okra ornament! Be sure to save a bunch of dried okra this summer so you'll have it handy in the fall when you're in the mood to make creative holiday crafts.
Recipe from Innkeeper at Big Mill Bed & Breakfast 252-792-8787.

Latest posts by Chloe Tuttle
(see all)