How to make these cute Christmas Santa Claus ornaments from Okra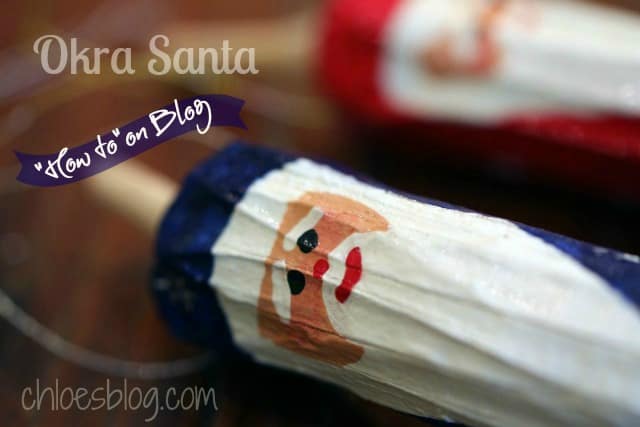 We must remember to grow and dry our okra here on the farm in the summer so that we can have these wonderful Okra Santas for Christmas. These ornaments are made from the okra seed pods that dried on the okra plants at Big Mill Bed & Breakfast. Most folks just throw them away; when I was growing up we saved them for next year's seeds.
If you want these precious Santas for Christmas, you will need to grow the okra or get a farmer to let some go to seed for you. If you don't have okra in your garden or have a farmer in your Rolodex, head to the local Farmer's Market this weekend. Strike up a conversation with some of the vendors who are selling okra. Don't be shy — tell them what you are making and ask them to save some of the seed pods for you. Farmers are friendly and will be happy to help you out.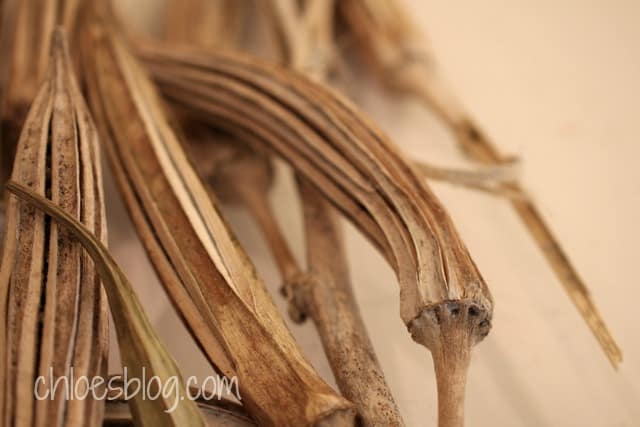 To make Okra Santa Claus Christmas ornaments you will need:
Dried okra seed pods, one for each Santa
Acrylic glossy craft paint: royal or ultramarine blue, bright red, white, Christmas green, pinkish color or brown for face (you can find this paint for under five bucks eachat any store that has a craft department). If you can find gloss paint that works great. If you want to paint the eyes and you want them to be black, you will also need black paint.
Some folks paint the eyes with medium fine Sharpie pens in black and the mouth in red. I prefer to paint them with a brush.
If you want the stars you will need an art pen in a gold or silver color
Small artist's paint brushes (you can get away with just one) and a detail brush
1/16″ drill bit and a drill
Needle and some pretty thread for hanging (or you can use fishing line and you don't need the needle)
Old aluminum pie pan, aluminum foil, waxed paper or something to use as a palette – an old plastic plate works great
Paper towels or old rags
Water source to clean brushes
Waxed paper for drying Santas
Optional: Spray varnish or spray urethane (if you don't have glossy paints)
How to make an Okra Santa Claus:
Make sure the paints are stirred. Paint each okra pod green, red or blue, but do not paint the stem. You could use other colors for Santas if you want – purple might be nice. Let the paint dry. Usually one coat will look just fine.
Next paint on the white area that is the beard – it will probably take two coats and sometimes three coats of paint. Let this dry.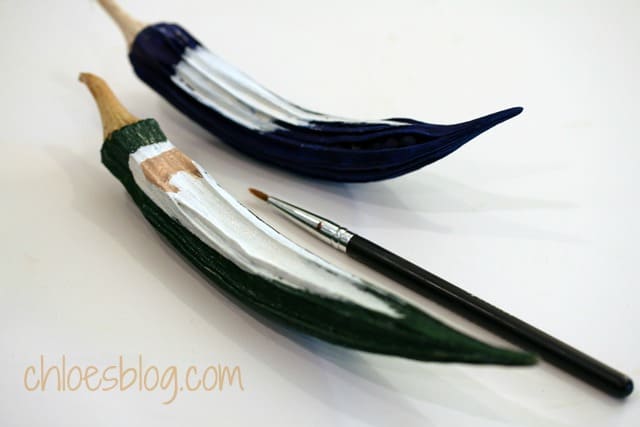 Using the fine tip brush, paint on a face shape using either a pinkish skin tone or light brown skin color. Let this dry. It might need two coats. Depending on the size of the okra, the face shapes and sizes will vary.
Using the fine tipped brush, paint the white eyebrows and let them dry. Here is where you can paint on an expression – if the eyebrows tilt down, it signifies a question. Or you can paint them straight – that looks like disapproval.
Using the fine tipped brush and your blue or black paint, paint the eyes or you can do this with an fine or medium point Sharpie in blue or black. Let this dry.
Now with the fine tipped brush and red paint, paint the mouth. (You can use a red Sharpie). Let this dry.
With the tiny drill bit, drill a hole into the stem or either the top of the pod of your Santa. Thread the needle with a pretty piece of thread like a metallic thread. Run a length of thread through the tiny hole and tie it off to make a hanger, It will take 5-6 inches of thread. Some folks use fishing line.
If you like the stars, draw them on now.
If you want Santa to be shinier, spray it with the spray urethane or some type of clear shiny spray.
You can get creative. Some folks add a belt and a fuzzy beard. Just have fun!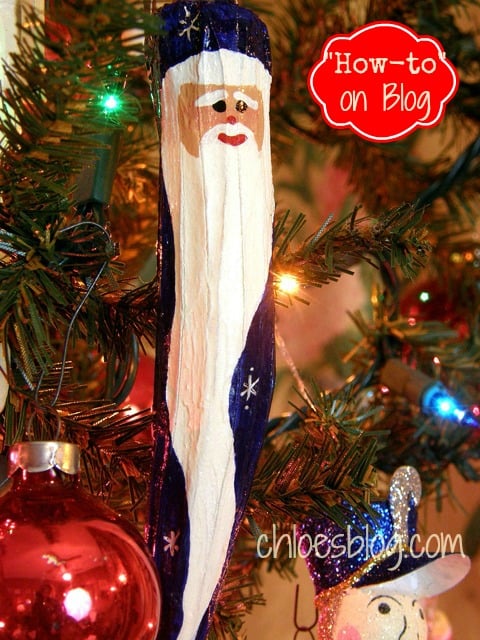 VOILA! Enter the charming okra Santa! Folks really love these little fellows. I gave them as Christmas gifts one year, holding my breath thinking folks would say, "Oh, you shouldn't have." But everyone loved them. I have had some of these fellows for 10 years. Have fun.
These DIY Christmas ornaments make great gifts. While you are being creative, try making our Beeswax Ornaments.
Come see us at Big Mill Bed & Breakfast, eastern North Carolina's best farm B&B 252-792-8787.


Big Mill Bed & Breakfast, Williamston, NC 27892
Latest posts by Chloe Tuttle
(see all)