Young, just-dug peanuts are called green peanuts. Here in the South, we boil these peanuts in the shell with a lot of salt.  In late August or early September, you can find these green or boiled peanuts at farm stands and some grocery stores like Piggly Wiggly. As the Georgia bumper sticker says, "It is time to Brake for Boiled Peanuts."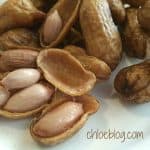 Print Recipe
Boiled Green Peanut Recipe – Southern Style
A traditional southern recipe that is easy to make, and so delicious.
Ingredients
2-3

pounds

raw green peanuts in the shell

(this is about 12 cups peanuts with shells) The peanuts are not green, just raw

1/2-1

cup

salt

3-4

quarts

water

or enough to cover the peanuts - add more water as they cook
Instructions
"Green" peanuts are not green; they are just young, raw peanuts. These peanuts are usually dug by hand several weeks before the farmer moves through the field with the machines that dig the peanuts. Here in eastern North Carolina, these green peanuts are ready late August or early September.

Wash the peanuts, still in the shells, several times until the water has no grit in it. Pick over and remove any bad peanuts and discard.

Put the peanuts still in shells into a large cooking pot. Cover with water at least 2 inches above the peanuts. Add the salt and stir.

Bring to a boil. Lower heat and boil slowly for 1-3 hours, depending on how mature or old the peanuts are. If the nuts are really young and pink, it will only take about 1 hour of cooking. If they are older, it can take up to 3 hours. You might also have to add water to keep the water level above the peanuts. Keep cooking until the peanuts are soft inside. Cooking time varies according to how old the peanuts are.

After they are done, they will continue absorbing the salt. If the salt taste is like you want it, then remove the peanuts from the salty water. They will keep in the refrigerator for several days.

Refrigerate or freeze after cooking.

It is much easier if you eat the peanuts outside. You can just spit out the shells.
Nutrition
Calories:
431
kcal
|
Carbohydrates:
12
g
|
Protein:
20
g
|
Fat:
37
g
|
Saturated Fat:
6
g
|
Sodium:
4744
mg
|
Potassium:
562
mg
|
Fiber:
7
g
|
Calcium:
90
mg
|
Iron:
3
mg