War wages every year on the first weekend in November as the Confederates attempt to defend Fort Branch against the Union Army. Fort Branch is located in Hamilton, North Carolina — just about 12 miles from Big Mill Bed and Breakfast.
Yankee reenactor Mike Kerriker (below) gets his weapon ready for battle in the annual Civil War Battle Re-Enactment this weekend near Big Mill B&B.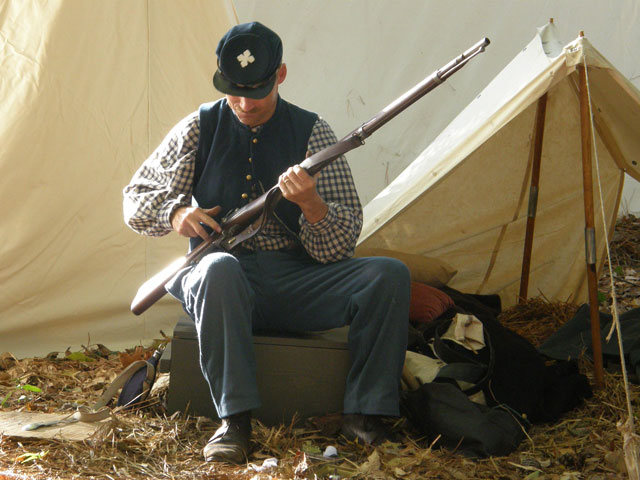 Fort Branch sits high up on a cliff at a bend in the muddy, fast-moving Roanoke River near Hamilton, NC.
Here, the Confederates built a dirt mound fort and it was strategic in the Roanoke Valley defense against the Union Army. From this vantage point, the Confederates had a clear view that enabled their troops to protect the railway bridge near Weldon and the construction site of the 122 foot ironclad ship the Ram C.S.S.Albemarle. From Ft. Branch, Johnny Reb could see if the Yankees were coming.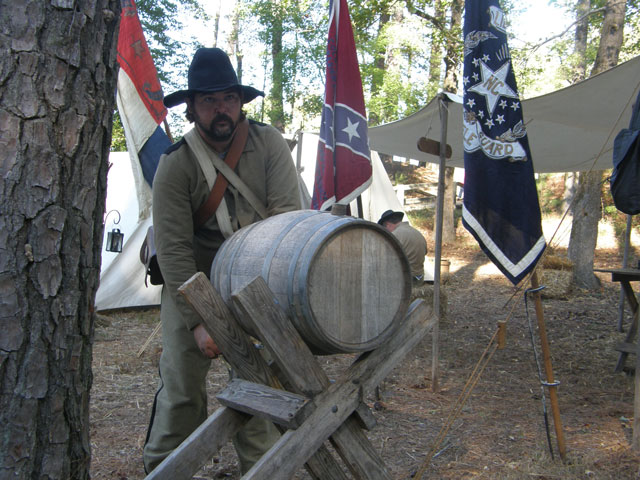 As a child we called this fascinating place Rainbow Banks, some called it Rainbow Bend. Since 1987, in early November Fort Branch comes alive again when Civil War Battle Re-Enactors recreate scenes of 1862. On the last day of the reenactment, war is waged with canons, musket fire and some pretty authentic-looking casualties. There was a real battle of Fort Branch and it took place in July, 1862.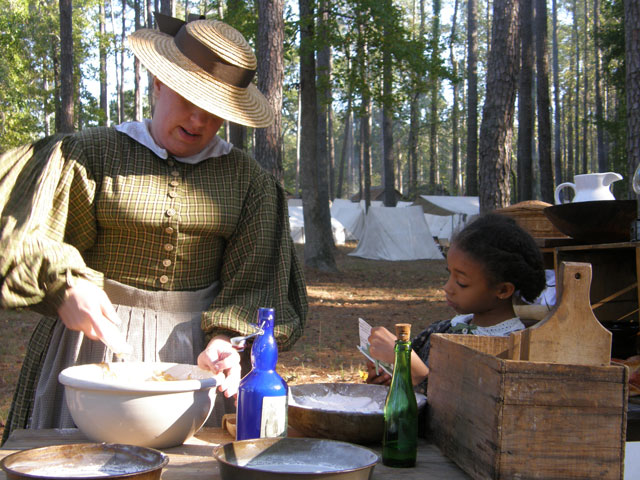 But the days leading up to the battle are full of regular folk stuff like cooking on an open fire, making candles, making butter, playing music….all the things folks did to stay alive almost 150 years ago.
One of the reenactors gave me a piece of Hard Tack, a heavy, unleavened cracker or biscuit that was a staple for the soldiers on both sides of the war. Also called Sea Biscuits, these crackers are hard as a rock and are selling like hot cakes on the internet by the G.H.Bent Cookie Company. But you can make your own.
Hard Tack Recipe

(Preheat oven to 400 degrees)

2 cups flour

½ to ¾ cup water

6 pinches salt

1 Tablespoon lard or shorting (optional)

Mix all ingredients together to make a batter that does not stick to your hands, as dry as possible.

Roll out or press onto an ungreased cookie sheet to a thickness of ½ inch thick. Bake for 30-45 minutes.

Remove from oven and cut into 3-inch squares. Punch 4 holes into each cracker. Do not pierce all the way through. Flip and bake for another half hour or until crackers are dry. Turn oven off and leave hard tack in the oven until they are cool.

Note: Cooking times may vary. Hard tack can keep for up to a year.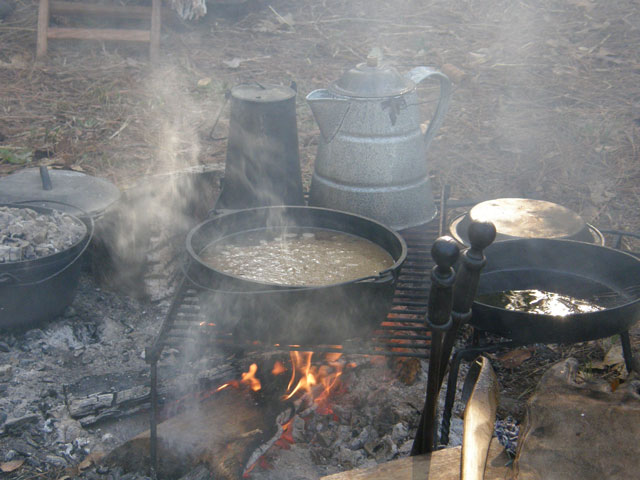 I am not a re-enactor, but this is an exciting place to be. As I wandered through the campgrounds, I was shocked by the "dark." There were no electric lights, no flashlights … nothing of the twenty first century. Folks walked around carrying wooden lanterns lit with beeswax candles, men were wearing wool uniforms, smoke was everywhere, from the camp fires and the canons that they fire at dusk.
They do have concessions for folks to buy hand-forged iron things, candles, ball gowns, long underwear, artillery, ammunition, knives and most anything that a man would need to fight a war in 1862. The pretty hand-made gowns are for the women to wear on the last night of the reenactment when the Rebels join the Yankees to revel, dance and make merry.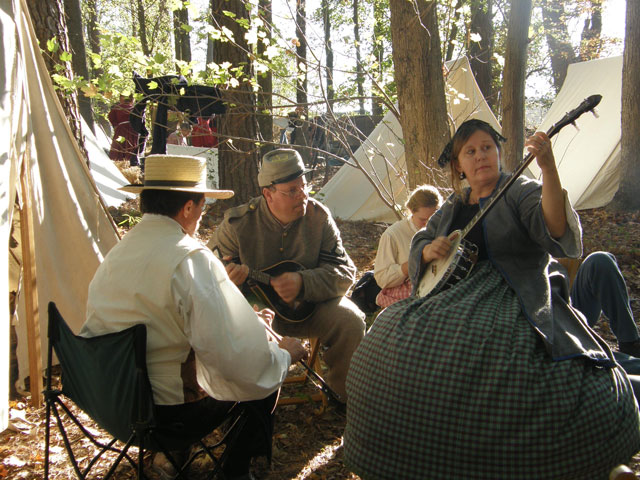 The musicians above just picked up their instruments and started making music. On the left is Tommy Britt in civilian clothing. The mandolin player is obviously a Rebel and Ann Ortiz is playing the banjo. Most of these reenactors follow the circuit and they know each other from other battles up and down the east coast.
Ann plays regularly with the Huckleberry Brothers band from the NC 18th and the NC 27th Regimental Infantry units. They play instruments of the Civil war era including fiddle, banjo, mandolin, guitar, penny whistle, bones, bodhran (Irish drum), mountain dulcimer and sometimes a harmonica. As Ann says of their music, "It is Old Time Civil War Period and Minstrel Music of the Old South, full of bawdy humor and wit." While I was wandering around Fort Branch I think I saw some Yankees playing music with some Rebels. This is one of the songs you might hear them play:
Old Dan Tucker

Old Dan Tucker was a mean old man
Washed his face in a frying pan
Combed his hair with a wagon wheel
Died with a toothache in his heel

Get out the way, old Dan Tucker
You're too late to get your supper
Suppers over, breakfasts cookin'
Old Dan Tucker just stands there lookin'

Old Dan Tucker. old no good
Went to Alaska looking for food
The weather tried to freeze him,
did its level best. (song of the Civil War era)
As night falls the camp gets quiet, soldiers sleep when they can in the tents, but always with a sentry to watch for a possible Yankee invasion.
I did hear that sometimes it is necessary to have a "defector" if they don't have enough Yankees to fight the battle. This might just be a joke among the group, but it sounds reasonable to me.
After Robert E. Lee's surrender in 1865 the Confederates spiked the canons and dumped them over the cliff and into the Roanoke River. Several have been recovered but some are still lie at the bottom of the river.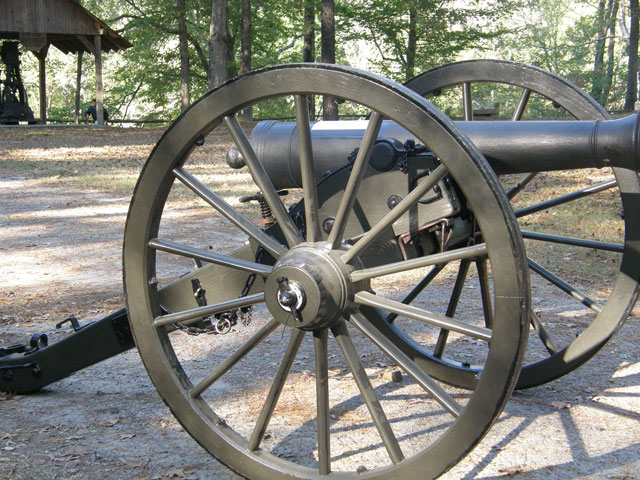 Today the site is maintained by the Fort Branch Battlefield Commission and the 1st NC Volunteers/11th Regiment NC Troops. Each year on the first Saturday in December, Fort Branch hosts a candlelight tour of the fort ending with visitors joining to sing carols around an open camp fire. It is usually held the first Saturday in December. Wear warm clothes, it can get really cold on the banks of the Roanoke.
Fort Branch is a wonderful site and is definitely worth a visit. Donations can be sent to Fort Branch Battlefield Commission, P.O. Box 355, Hamilton, NC 27840 or email them for more information — adjutant@fortbranchcivilwarsite.com.
The annual Battle reenactment at Ft. Branch is November 5 & 6, 2022
Re-enactors register and unload vehicles on Friday

Sunday-reveille in the morning. Period church service at 10 a.m.


View Ft. Branch Civil War Fort in a larger map
Distances From:
Raleigh, NC – 96 miles
Greenville, NC – 32 miles
Richmond, VA – 132 miles
Big Mill Bed and Breakfast in Williamston, NC – 17 miles (252) 792-8787
Latest posts by Chloe Tuttle
(see all)