Bird lovers everywhere join in the Great Backyard Bird Count

We love the annual Great Backyard Bird Count. It's easy to participate and it helps the birds. You sign up on the website and agree to count birds for at least 15 minutes on at least one of the 4 days of the bird count, more if you want. Everyone is welcome. You don't need to be an expert. Sign up is easy and free.
We have always had birds here at Big Mill B&B. When I was growing up, my father would tell me the name of each bird by the song it sang. Oh, how I wish I had that gift.
A birding group of young people in Michigan — they call themselves the Michigan Bird Brains — count birds entirely by ear. These students and their teacher are blind.
Each year I grab my North Carolina bird book, my camera and stare out my window – hoping I can recognize the wonderful birds here at Big Mill Bird & Breakfast. Yes, I feed them breakfast. And we are a Certified Bird Friendly Business.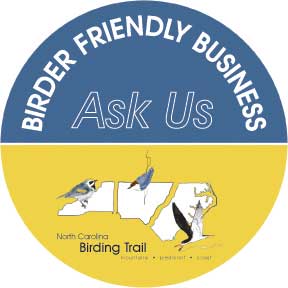 Big Mill Bed & Breakfast 252-792-8787
Latest posts by Chloe Tuttle
(see all)