Cracklins: Pork fat and skins that are deep fried
in rendered lard until they are crunchy.
(From the Eastern North Carolina lingo dictionary)
Cooking Up Cracklins
Cracklins used to be common fare on southern tables. Sometimes you have to go back to your roots and eat the food of your heritage. My folks and the neighboring farm families had hog killings in the winter and they made cracklins/cracklings. So in cold weather we ate cracklin bread. Rest assured we don't eat like this all the time.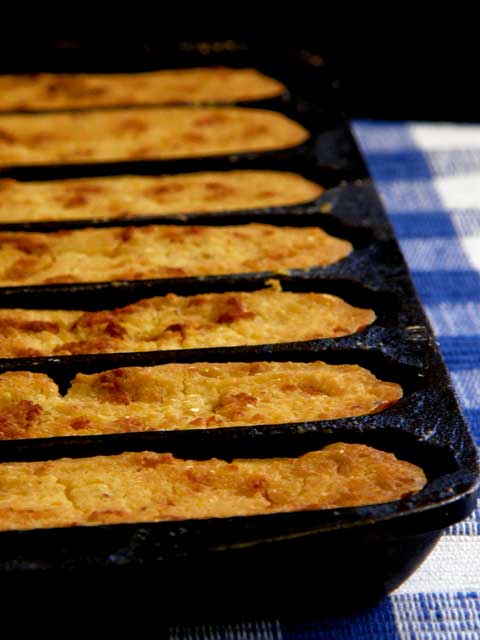 Ingredients
1

cup

pork cracklins

2

cups

fine ground cornmeal

I use House-Autry

2

Tablespoons

self-rising flour

1

teaspoon

salt

pinch

of sugar

optional

1

cups

warm water

add more if needed
Instructions
Preheat oven to 400 degrees. Grease the pone pan with some really sturdy grease like Crisco or lard.

Chop cracklins. If you don't like brown flecks in the bread, then grind the cracklins.

In a large mixing bowl stir together the cracklins, corn meal, flour, salt and sugar. Add the water slowly, stirring until the mixture is the consistency of pancake batter.

Pour into pone pan, filling to the top. Bake until edges are brown and bread is crusty, 35-45 minutes. As soon as the bread is cool enough to handle, pop the pones out of the pan. Serve immediately while bread is hot.
Nutrition
Calories:
88
kcal
|
Carbohydrates:
15
g
|
Protein:
3
g
|
Fat:
1
g
|
Cholesterol:
1
mg
|
Sodium:
179
mg
|
Potassium:
63
mg
|
Fiber:
1
g
|
Calcium:
1
mg
|
Iron:
0.6
mg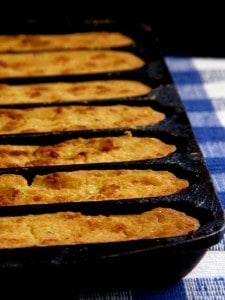 This bread is made in a cast iron corn pone pan
The corn meal is also important. When I was growing up I rode my bicycle down our dirt road to the Big Mill to get a paper bag full of fresh ground corn meal; usually from our own corn. Miss Sadie James made the best meal; I can't find any meal of that quality now. My dad Ops taught me how to take the raw meal in your hand, squeeze it and it should clump together like clay. If not, then it was ground too fast and the stone heated the meal too much.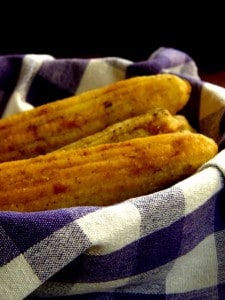 Cracklin bread ready to eat
If you really want to try eating cracklins and you aren't planning to attend any hog killings, you can buy them in some grocery stores like Piggly Wiggly. Buy the cracklins without skins, your teeth will thank you.
I did find a Cracklin' Bread Recipe in the White Trash Cookbook, but don't think cracklins are just for us down home folks anymore.
Come see us at Big Mill Bed and Breakfast, 252-792-8787

Latest posts by Chloe Tuttle
(see all)