Every country inn really does need an old pickup truck. Ours is "Old Red" and she is part of the landscape…literally, because some days she won't move.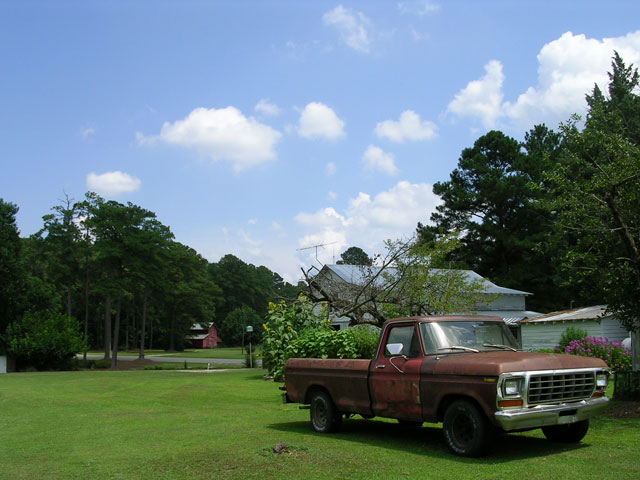 Old Red has a 1968 Ford 390 engine in a 1979 Ford body. She has an automatic stick shift in the floor, and starts running wideopen in ANY gear. Folks head for cover when they hear her rumble. She has aHolley racing carburetor and to me that just means more gasoline; not at all good for my eco image. But she is very recycled.
Old Red is not really road-ready yet. I am waiting for the day when she can be legally declared by the State of North Carolina as an antique. Until then we are content to wander the fields and forests on the farm in search of berries and wild grapes and picnics. Lest you think she only plays, Old Red works hard — we have limbs and yard debris that we haul to the woods. Aren't we lucky to have woods?
Of late, Old Red has anew career as a photo prop. We have photographers who come to Big Mill B&B and the farm for photo shoots, including Playboy magazine.
Brides lean on the hood next to the license tag –a joke put there by a friend of mine. It was such a hit, I left it. Mind you, nobody here is a redneck, but folks love the idea.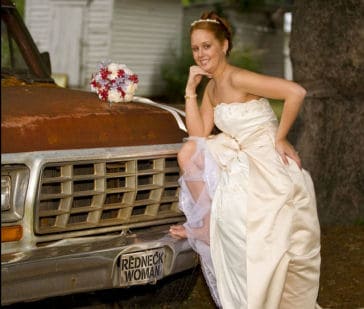 Even country music stars show up in photos with the old Ford truck. Jamie Leigh had her portfolio taken here at Big Mill and now she is famous! Jamie just won the Kenny Chesney 96.9 the Kat Radio "Next Big Star" contest in Charlotte.
In her original song "Summer Nights" she sings of a rusty old Ford truck…I just know it's Old Red. Jamie opened with Kenny Chesney in a concert in Charlotte. Great going, home town Martin County girl.
Along with country stars, we also have Old Red with our favorite British Barrister. Anthony makes his home part time here in Eastern North Carolina and he now has his own pickup truck with dual exhausts. What will the chaps at his club in London think?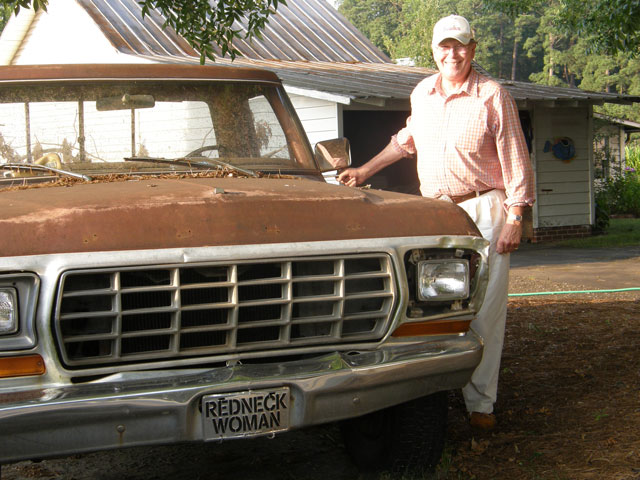 It is good to be writing again to Chloes Blog. Business has been fabulous this summer and it has cut into my blogging time…but I love it — blogging and the Bed and Breakfast. The folks who have passed through here this summer have been the best. I have made some great new friends.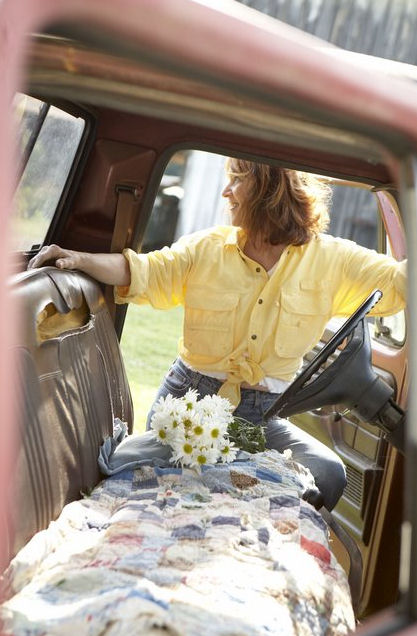 I just had a request from a couple of upstate New York guests Nicholas and Sandi who want a ride to the creek on Old Red.
So off we go…in the rain, in the dark, knowing we might have to walk home. We love an adventure! I love my truck.

Big Mill Bed & Breakfast 252-792-8787
Photo Credits: Black and White photo is by Andrea Wood of Touched Photography; Photos of Jamie Leigh photo and the bride are by Peggy Rogerson of Peggy Rogerson Photography; Group photo and photo of Chloe and Old Red Truck are by Stacey Van Berkel of Stacey Van Berkel Photography. All other photos are by Innkeeper Chloe Tuttle of Big Mill Bed & Breakfast.
Latest posts by Chloe Tuttle
(see all)