The mystery – What happened to the Lost Colony? Are they in Manteo or maybe still in eastern North Carolina?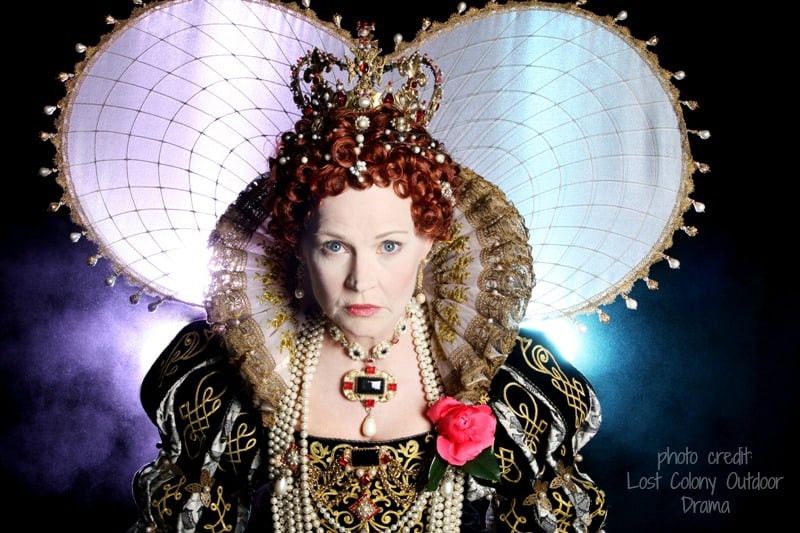 In 1587, a colony of 120 souls established the first English Colony in this new world on North Carolina's Outer Banks. Three years later when John White returned from England with supplies, the colony had vanished. He found only the word "Croatoan" carved into a tree. Recently researchers have found a clue that the colonists may have moved to Bertie County — to what is now an Arnold Palmer Golf Course.
Paul Green's drama "The Lost Colony" was first performed in 1937 and it is the most successful and longest running outdoor drama ever – 76 years. On summer nights in Manteo, NC, actors perform under the stars, with elaborate sets and lavish costumes. Some years ago, a young Andy Griffith played the role of Sir Walter Raleigh.
This is a breathtaking production, something you should not miss. The Lost Colony Outdoor Drama has it all: beauty, action, excitement and the glorious outdoor setting at Roanoke Island's Waterside Theater. Remember to take bug spray. And don't forget the only clue – CROATOAN.
Those of us whose families have been in eastern North Carolina forever like to wonder if we are descendants of the Lost Colony; we like to think so.
FOR MORE INFORMATION:
Event: 2017 season open May 25-August 22 Every night except Sunday (Shows begin @ 7:45 p.m & run for 2 hours with an intermission)
Contact: 252-473-3414 & 800-488-5012 & 252-473-6000
Tickets – Adult tickets start at $20; children under 5 are free
Getting There: Waterside Theater – 1409 National Park Drive, Manteo, NC 27954
DISTANCES FROM:
189 miles east of Raleigh, NC
95 miles south of Norfolk, VA
385 miles east of 102 Charlotte, NC
87 miles east of Big Mill Bed & Breakfast in Williamston, NC
Hope to see you here at Big Mill Bed & Breakfast (252-792-8787), just 87 miles from the Lost Colony.

Latest posts by Chloe Tuttle
(see all)