Molasses — that dark, sweet liquid that tastes so good on a hot biscuit — was once a staple on every farm in eastern North Carolina

Melvin Price and Lucy making molasses
My dad's family made molasses and to him molasses on a sweet potato was a meal. He told me all about how they grew the cane and made the molasses. I can almost see it.
Melvin Price and his brother William Earl still make molasses like my dad did. It is magic. Melvin pushes the stalks between two rollers and it is mashed until the liquid comes out into a pail.
Mind you, he can't do it without Lucy, his mule. While Melvin is pushing the cane into the extractor, Lucy is walking in a circle around Melvin. She is actually the power behind this mechanism. Every once in awhile Lucy stops to chew on some of the cane – it is so good! Then Melvin will cluck and Lucy starts up again.
Each time Lucy and the pole come by, Melvin ducks – it's just the natural thing to do.
When Melvin and Lucy get a bucket of the sweet juice, William Earl pours it into a big container with a fire under it. This cooks off some of the water.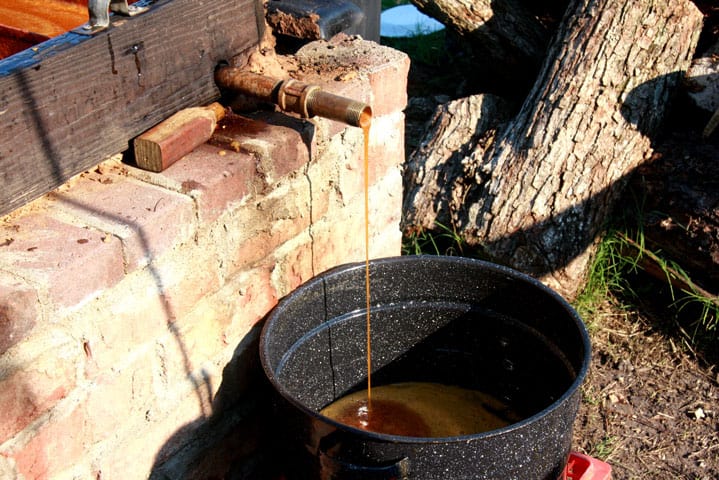 He opens a faucet and allows a certain amount of this steamy liquid to pour into a flat copper cooking pan with divisions in it and he stirs and stirs and stirs. This whole process takes about 8 hours. When it is thick and syrupy, the golden nectar is ready.
Melvin and William Earl got about 15 gallons this day – it took all day. Molasses recipes are coming, I promise.
PS – Big thanks to North Carolina's own, Molasses Creek, for providing the soundtrack to the video. The song's called "Still Love Fridays." They are a wonderful band!

Big Mill Bed & Breakfast 252-792-8787
Latest posts by Chloe Tuttle
(see all)